Key facts & figures
The German biotech industry at a glance
How is the German biotechnology industry doing? How are the most important economic indicators such as turnover, R&D investments, employees or financing developing? What about the start-up dynamics and the main focus areas of activity in the industry? This section provides a comprehensive insight into key data and facts on listed and private biotech companies in Germany.
1. Key figures of the German biotech sector
It is a rare case of a collateral gain: The devastating Corona pandemic has cast the German biotechnology industry into the public and capital market spotlight. The mRNA vaccine developed by BioNTech in Mainz proved to be highly effective and paved the way for broad-based vaccination campaigns around the world ­– the only way to overcome the epidemic. The pandemic raised awareness of the importance of biotech research, development and production, which boosted investment and led to accelerated growth in the biotech industry.
In 2022, investment was significantly lower than in the previous year, and with the pandemic subsiding and thus significantly lower demand for the Covid vaccine Comirnaty, industry sales also slumped, but less sharply than expected.
By contrast, research and development spending rose to a new record level. Biotech companies invested a total of €3.33 billion ­ of which 3 billion alone went towards researching new active ingredients, technologies and products or improving existing innovations in the healthcare sector. These figures speak for the strong self-confidence of the industry. Companies were also able to continue acquiring qualified employees; and despite the difficult economic environment, the start-up momentum remained unbroken.
All of these findings are supported by the results of BIOCOM AG's Biotechnology Company Survey 2023, which collected key figures for 2022 thisspring. BIOCOM has been analyzing the development of the biotechnology industry in Europe for 37 years. Since 2005, the key figures of German biotechnology companies, which are collected annually, have been made internationally comparable according to the criteria of the Organization for Economic Cooperation and Development (OECD). It was only in 2020 that data collection was suspended due to COVID-19. The figures and graphs given below refer to those companies defined by the OECD as "dedicated" biotech companies (for more information on the methodology, see tab 10).
Although most of the industry is active in the healthcare sector, Germany is also working on biotechnological innovations in other fields. In industrial or "white" biotechnology, there are promising approaches to effectively counter the challenges of climate change. Alternative proteins, for example, are gaining in importance because they combine several advantages: they make a significant contribution to supplying food to the world's growing population, reduce the consumption of resources and put a halt to animal suffering. Also, work is underway to develop microorganisms that can break down carbon dioxide, thereby helping to reduce CO2 concentrations in the atmosphere. In the field of sustainable packaging and materials, biotechnological applications offer innovative and climate-friendly solutions, just as they do in the field of sustainable textiles or in waste-to-value approaches in a circular economy.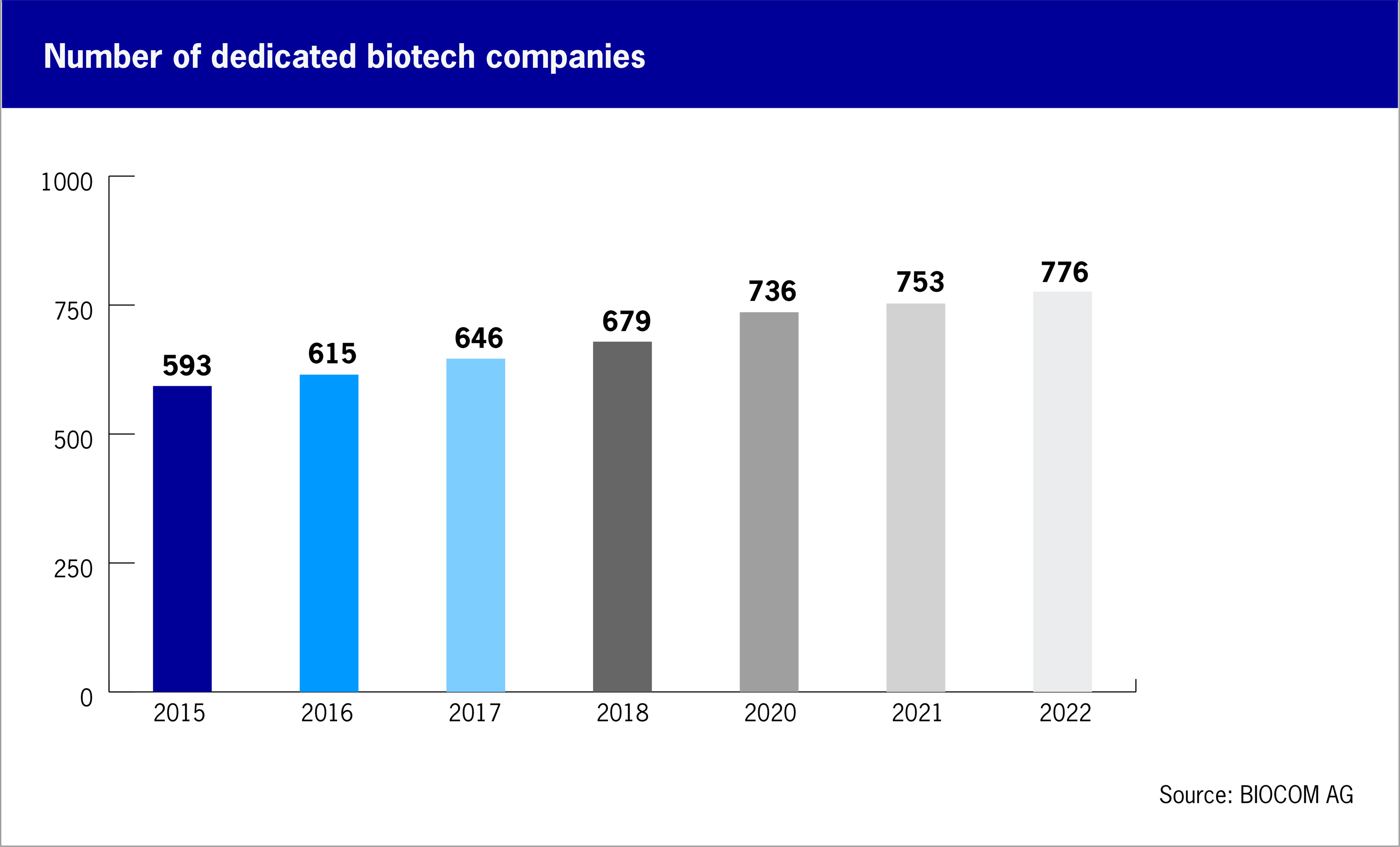 2. Development of turnover in the German biotech sector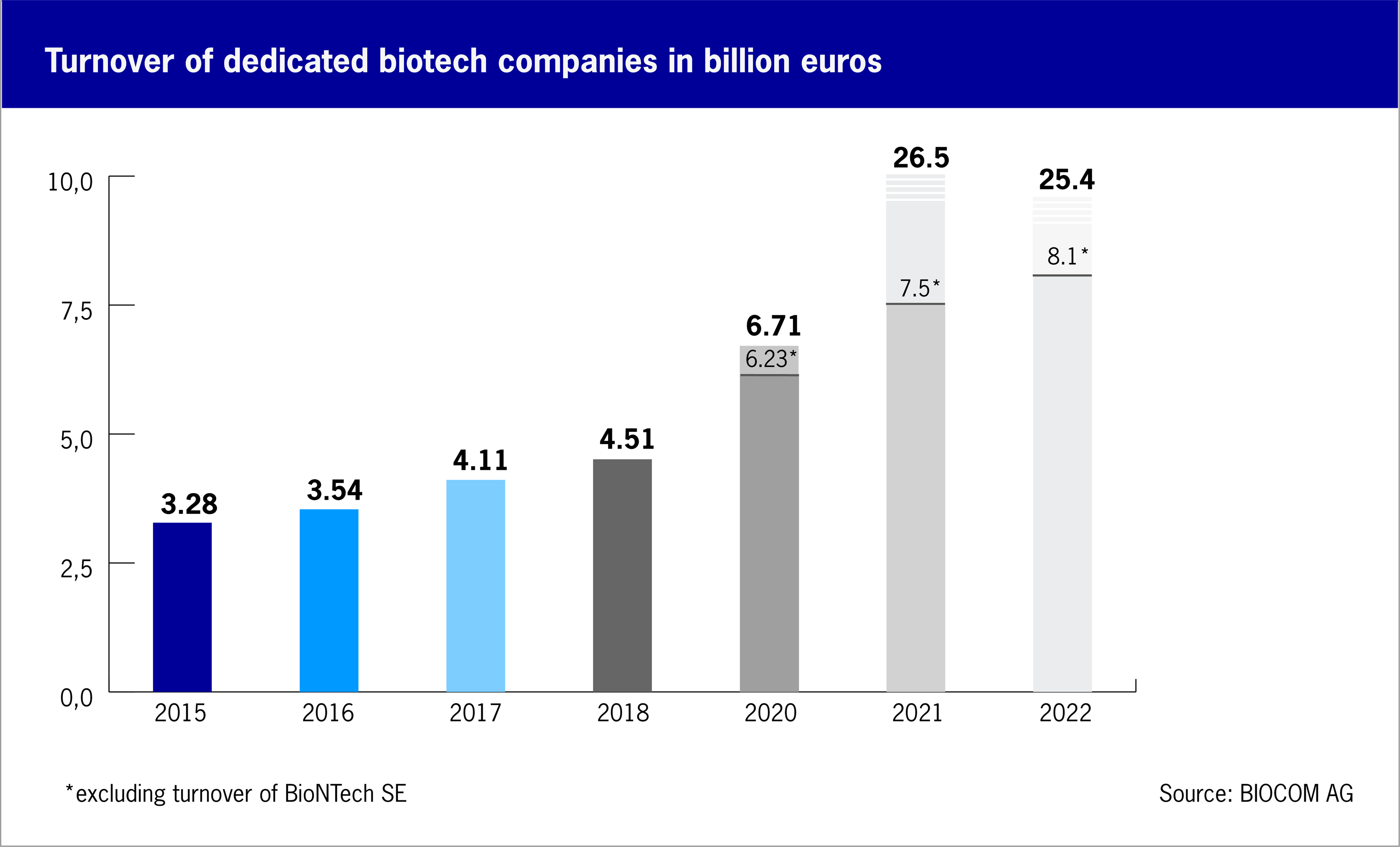 The biotechnology industry in Germany has achieved continuous growth in recent years. As expected, however, turnover in 2022 did not increase further. The subsiding of the pandemic and the resulting lower demand for the COVID-19 vaccine had already led to forecasts of a significant drop in sales. In fact, BioNTech suffered a €1.5 billion drop in sales. The industry's turnover curve thus fell slightly (-4%) for the first time since 2013.
Compared to 2021, the turnover of the 776 dedicated biotech companies dropped to €25.4 billion in 2022. However, when comparing the two years excluding BioNTech sales, sales increased from €7.5 billion in 2021 to €8.1billion. This represents growth of more than 8% and shows that many German biotech companies have now reached a high level of maturity and have been able to hold their ground even in the difficult economic and geopolitical environment.
Although the healthcare sector recorded a decline, it still contributed the largest share to total industry sales (€22.6 billion, -6.3%). The non-specific biotechnology services sector (€2.27 billion; +22.9%) again grew significantly, and companies focusing on industrial biotechnology (€433 million, +8.6%) also achieved an increase in turnover.
3. Areas of activity of biotechnology companies
The development of drugs or new diagnostic methods remains the focus of most biotech companies in Germany. About half of the companies (51%) focus their activities on the healthcare sector, either developing new therapeutics, diagnostics or vaccines or working on technology platforms relevant for this. Slightly more than a quarter (218 companies, 28%) of the companies provide biotechnological services and 12.4% (96 companies) are involved in industrial biotechnology. Only a small proportion (18 companies, 2.3%) of German biotech companies are active in agrobiotechnology. 49 companies (6.3%) focus on bioinformatics.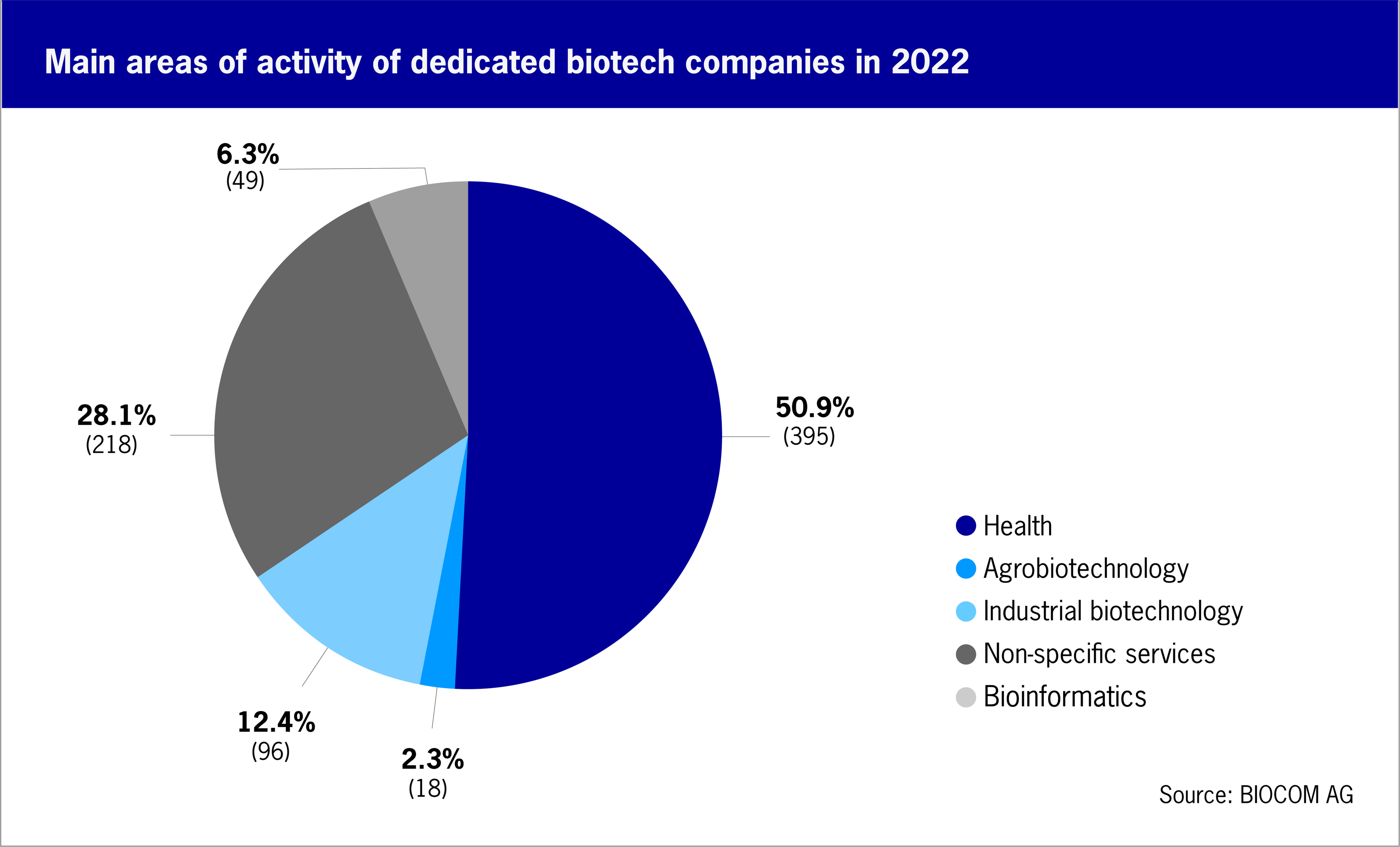 4. Focus on medical biotechnology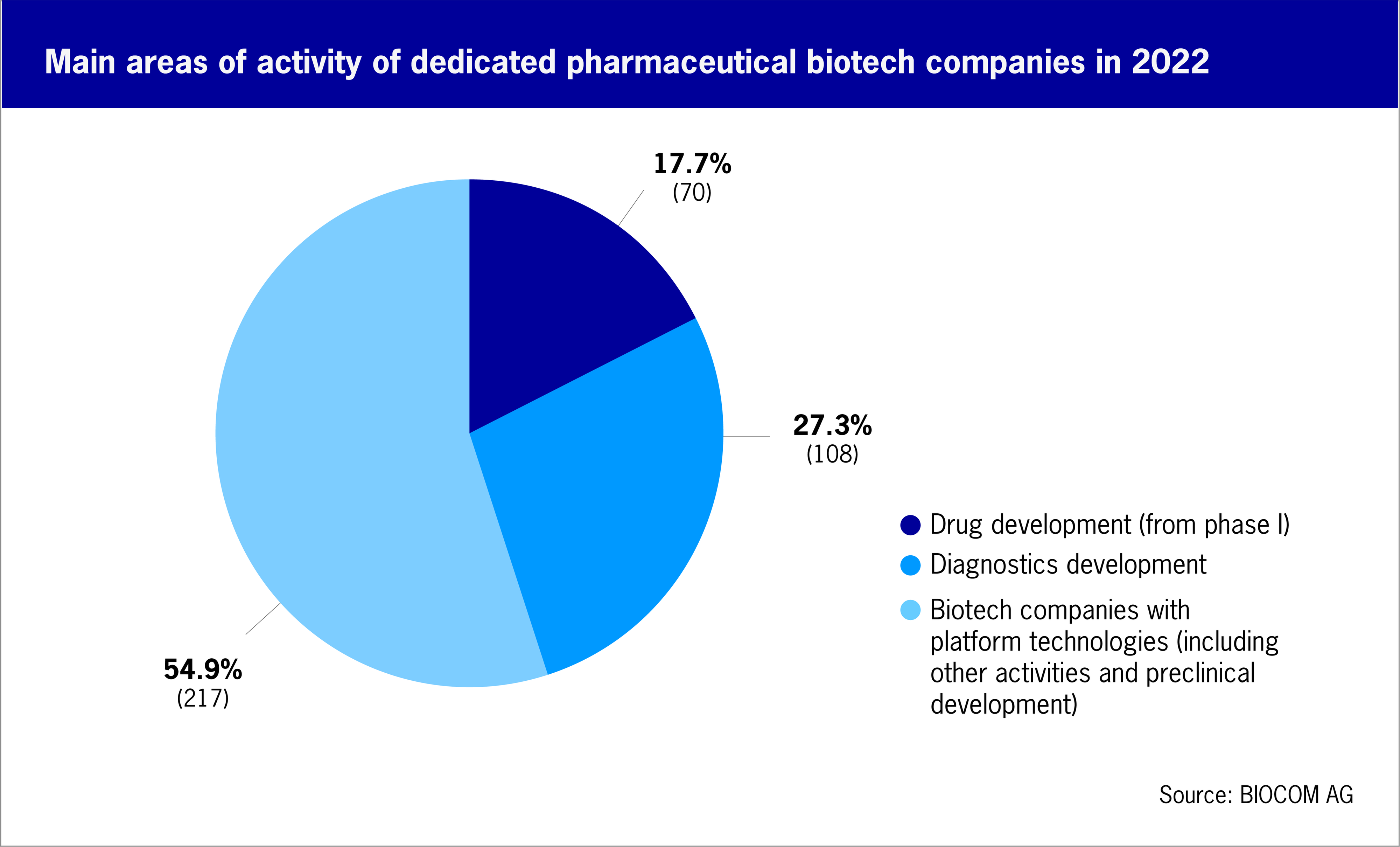 The development of therapeutic agents, vaccines and new diagnostic methods is the focus of most biotech companies ­– and not only in Germany. A total of 395 companies (51%) belong to the field of "red" biotechnology. They focus on the development of drugs, vaccines, new diagnostic methods and personalized medicine. There are 19,540 employees in the medical biotechnology sector and total sales of €22.6 billion (-6.2%). Expenditure on research and development amounted to €3.02 billion (+18.8%).
Therapeutics development takes time and money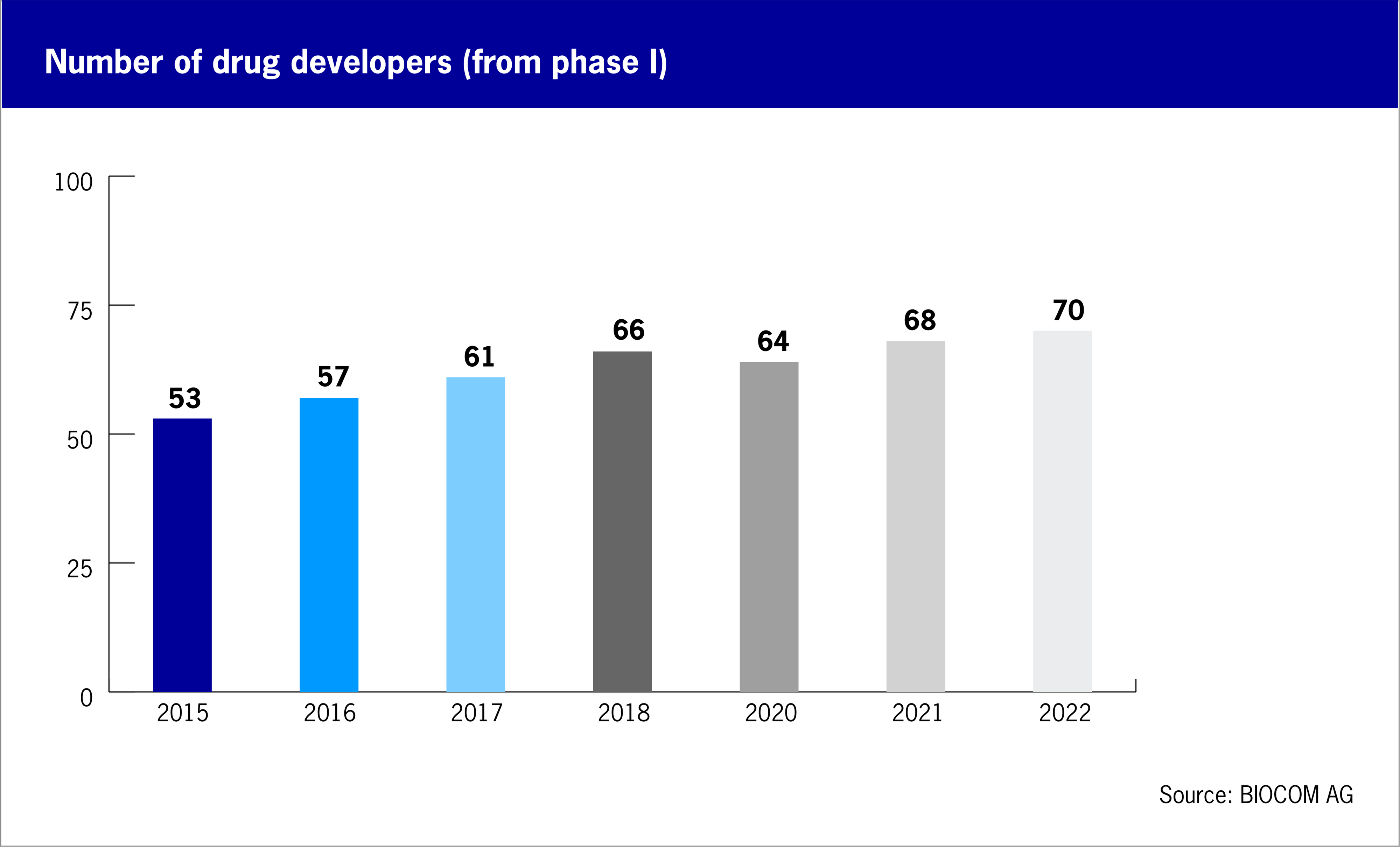 A total of 70 companies in Germany already had one or more phase I or higher products in their pipeline in 2022. This number is growing slowly but steadily – which is not surprising, because drug development is a lengthy, expensive process and thus difficult for small to medium-sized biotech companies to undertake.
The potential of a technology or research approach and the degree of maturity of a medical biotechnology company is commonly indicated by the number of drug candidates and the stage of their clinical development. Each step and phase comes with its own particular hurdles, and each further development is often associated with greater investment and higher risk. After all, in Germany or elsewhere, experts estimate that the development of a new drug now costs one to three billion euros and takes ten to fifteen years. Moreover, only one in 10,000 active ingredients ever makes it from discovery to the market.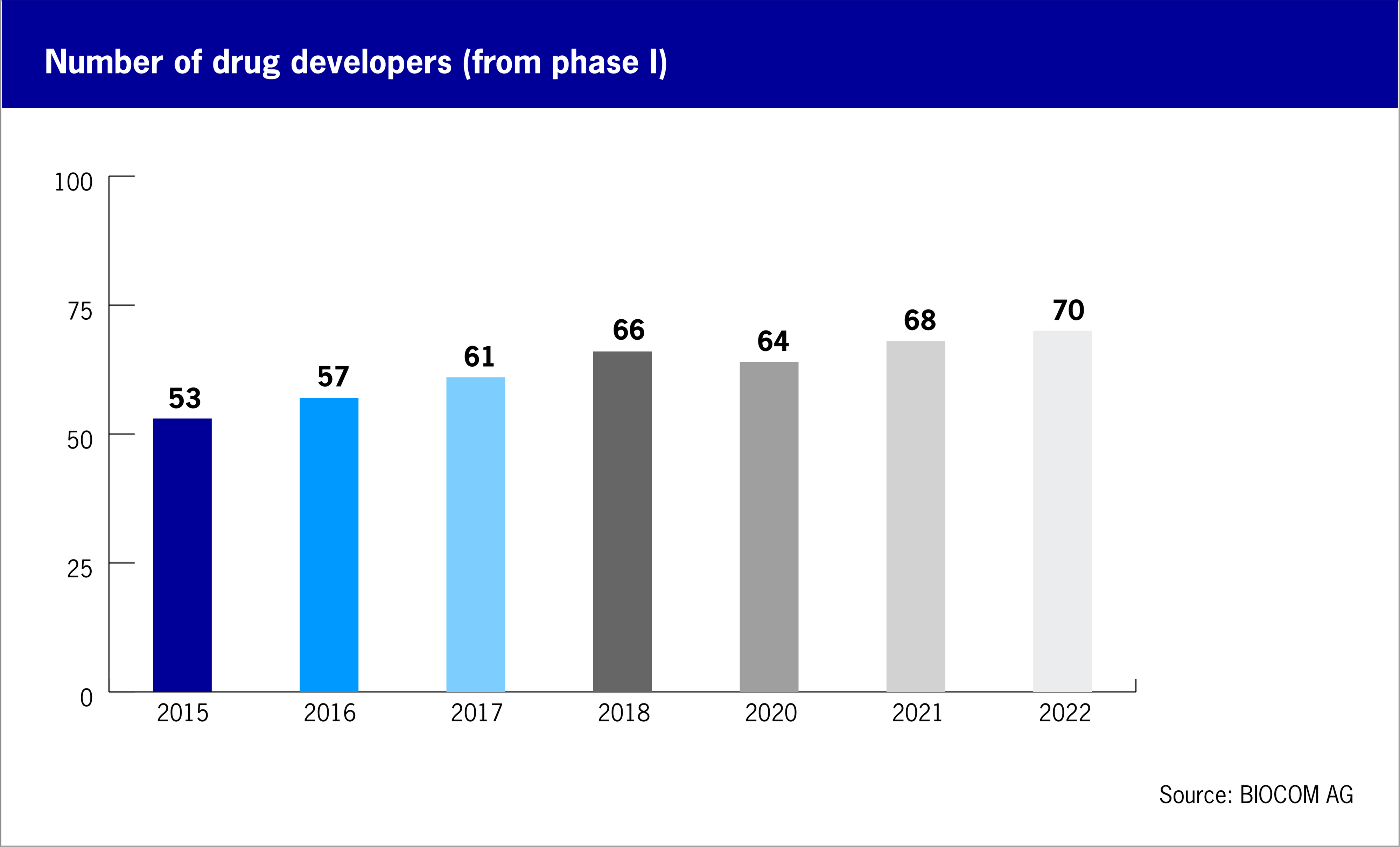 Against this background, a look at the current pipeline of German drug candidates invariably gives some indication of the maturity and innovative capacity of the industry. A total of 70 biotechnology companies had one or more candidates in clinical development in 2022. In total, 127 biologically active substances were in one of the clinical phases, 92 biologicals (+7) and 35 small molecules (+1).
Technology platforms and preclinica development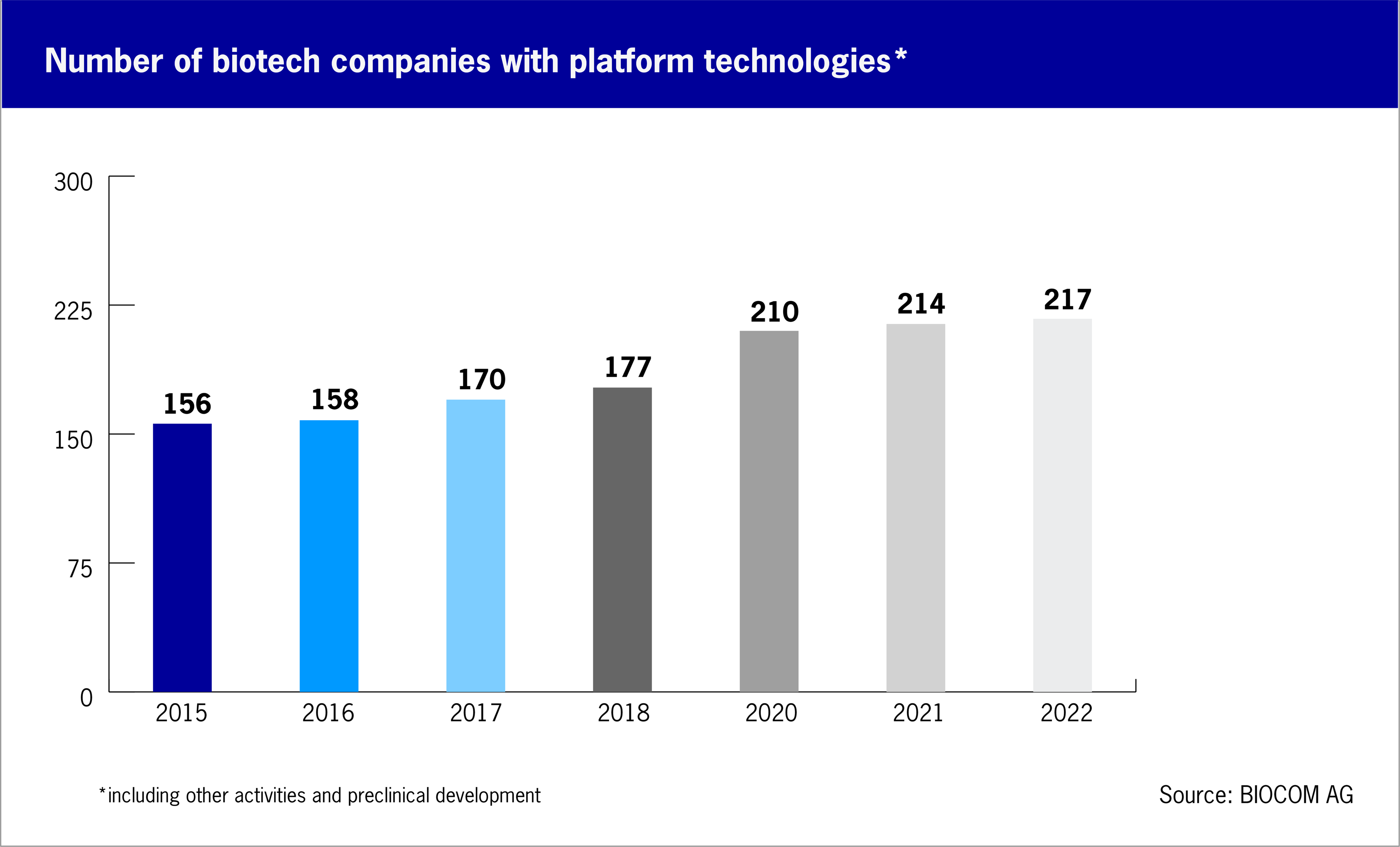 Most medically oriented biotechnology companies (219) are either still in the preclinical stage of therapeutics research or offer a technology platform as a service in the field of healthcare. The number of companies with technology platforms has risen steadily in recent years, underscoring the growing importance of broadly applicable technology platforms – either related to drug classes or to indications – in drug development.
Importance of diagnostics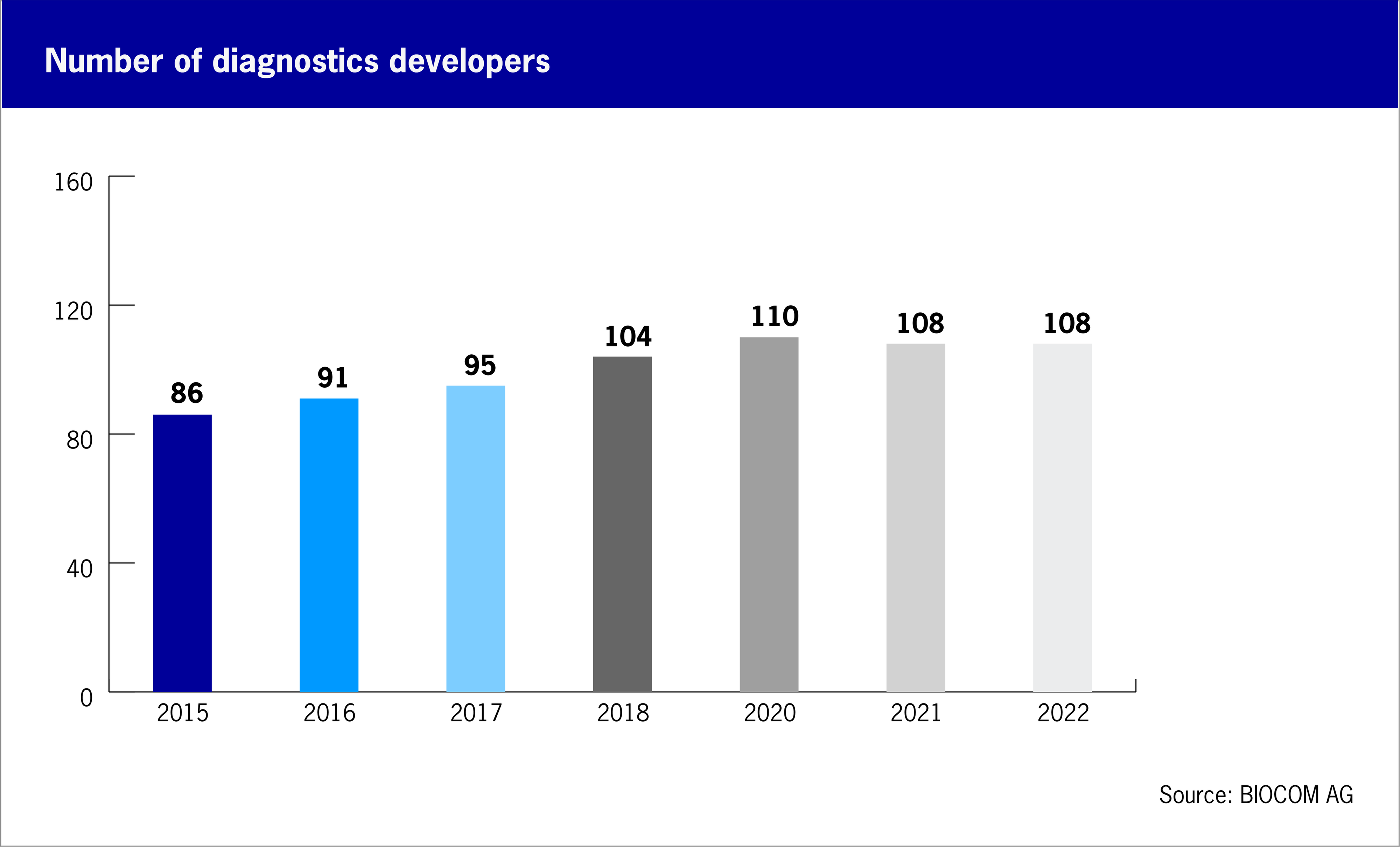 The past few years have shown that also in the field of diagnostics, speed is a key factor in successfully combating diseases. Only the rapid development of specific reagents and methods, for example for established PCR-based methods, will make it possible to develop and approve new in vitro diagnostics. 
Experts predict that the trend towards stratified and individualized medicine will increase the importance of diagnostics in the future, because tailoring medical diagnostics and therapy to individual patients allows for more precise and personalized treatment.
Personalized medicine can lead to better treatment outcomes while reducing costs for the healthcare system. In addition, adverse drug reactions can be minimized as medicines are selected based on individual characteristics and tolerability.
Just over a quarter (27%, 108 companies) from the medical sector were involved in the development of diagnostics in 2022.
5. Services and industrial biotechnology as growth drivers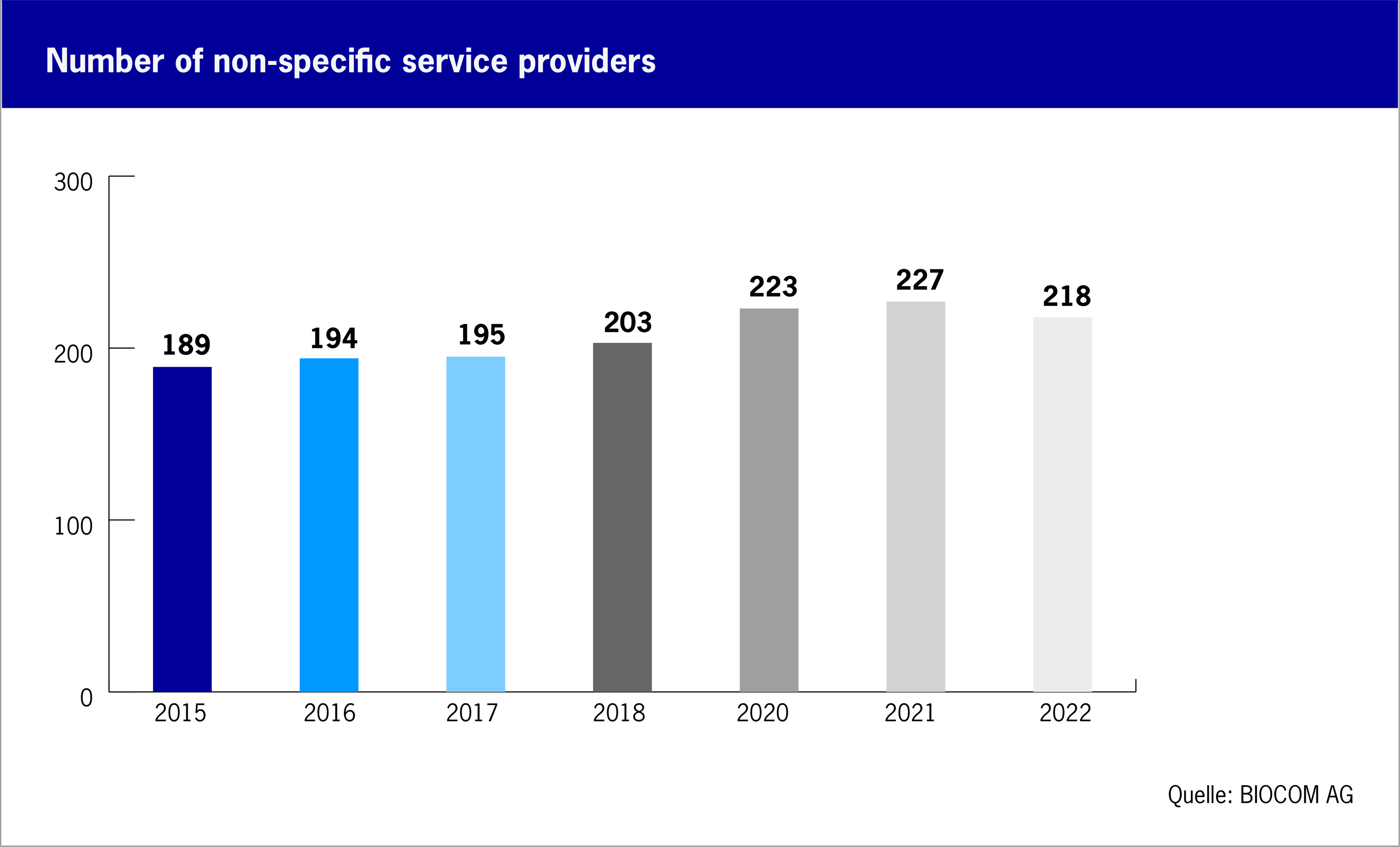 With 218 companies and more than 11,000 employees, the non-specific biotech services segment is the second largest pillar of the German biotech industry. This segment includes all companies offering equipment and reagents or services that are predominantly based on biotechnological principles. However, this also includes contract researchers and biomanufacturing experts. In 2022, these companies were again able to increase their revenue strongly. More than two billion euros in sales (€2.27 billion) were generated in this segment, an increase of 23% compared with 2021 (€1.84 billion). R&D spending (€194 million) also increased once more compared with 2021, albeit by only 5.4%. Just under a third (32.5%) of all employees in the biotech sector worked in this segment. Following the strong increase in 2021 (17%), the number of employees increased by a further 13% to 11,200 in 2022 (2021: 9,890 employees). This segment has shown continuous growth within the German biotech industry for years.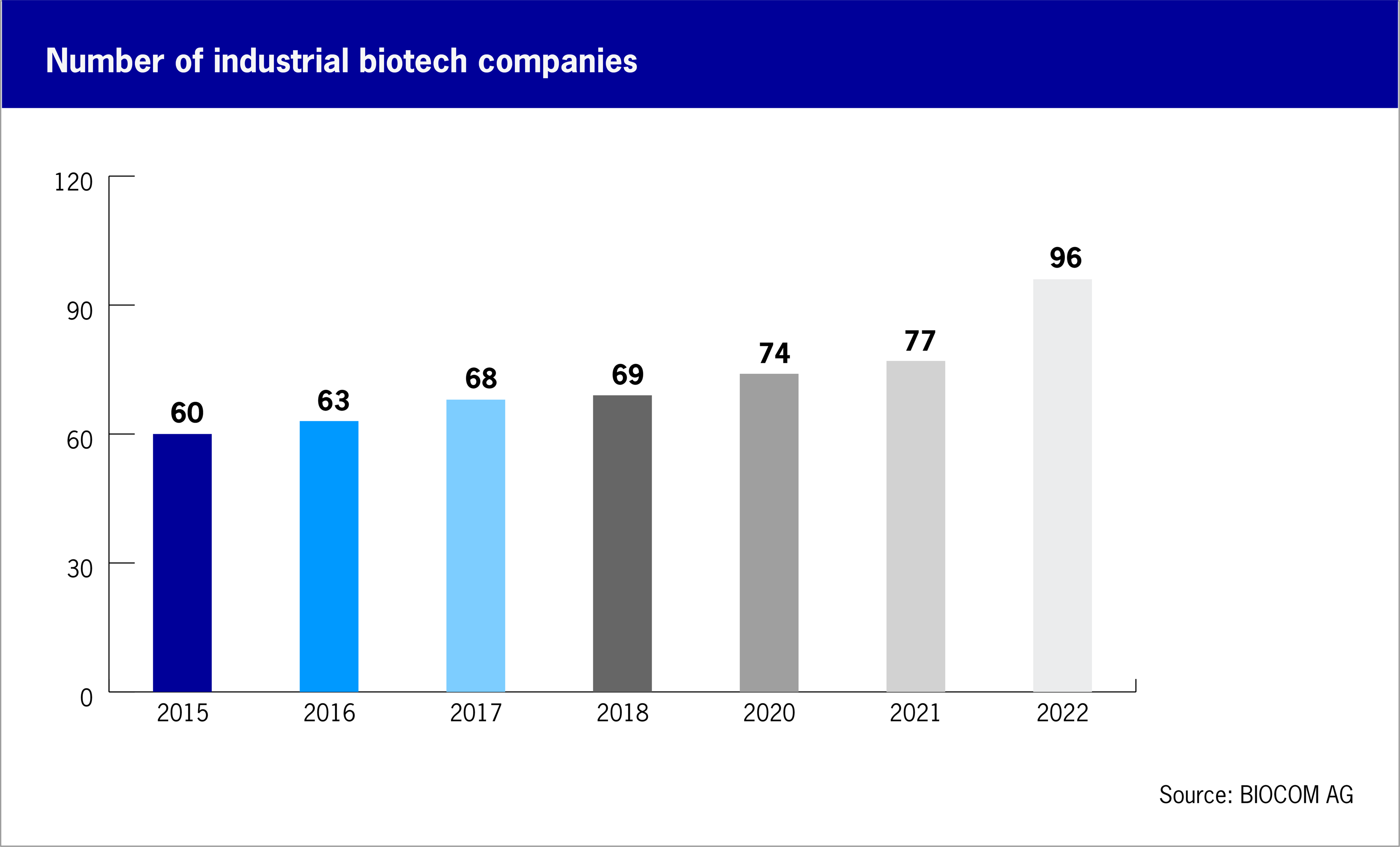 Industrial applications for various industries are being developed by 96 biotechnology companies (2021: 77 companies) in Germany. This segment recorded the largest increase in new companies in 2022. This is hardly surprising in times of climate change - after all, industrial biotechnology holds enormous potential for transformation. For example, it can replace or optimize conventional production processes. By using microorganisms, enzymes or biotechnologically produced materials, more environmentally friendly and sustainable processes can be developed. Biotechnology enables the use of bio-based raw materials instead of fossil fuels and non-renewable resources. By using microorganisms, pollutants can be degraded, biological wastewater can be purified, and contaminated soil or water can be restored. Biotechnological processes also enable more efficient waste treatment and disposal. In addition, industrial biotechnology can help increase food production and improve food security. Precision fermentation, for example, offers innovative solutions to nutrition-related challenges and sustainability problems. Several products are already being developed using precision fermentation, including dairy substitutes, functional ingredients, and other innovative foods.
Not only did the number of companies in industrial biotechnology grow by 25% in 2022, but their workforce also increased by nearly 19% to 2,550 (2020: 2,150 employees).The sales curve does not point quite as sharply upwards, but an increase in sales (€433 million, +8.6%) was nevertheless recorded - research and development expenditure rose more significantly, by almost 14% to €81.5 million.
Agrobiotechnology stable at low level
The use of biotechnology in plant breeding and agriculture has declined over the years due to strict regulations and general scepticism, especially towards green genetic engineering. Since 2015, the sector has stabilized at a low level. In 2022, 18 companies were active in this segment, one more than in 2021. The number of employees also varied only slightly, remaining unchanged at 400 employees. Turnover and R&D expenditure, on the other hand, fell slightly (turnover: €37, 9 million, -3.1%; R&D: €15.5 million, -4.9%). A turnaround could be achieved if the European Union revises its classification of new molecular breeding methods (e.g. CRISPR/Cas) as genetic engineering in early summer 2023.
Bioinformatics gains in importance
A steadily growing number of companies (2022: 49 companies, +16.7%) are primarily involved in bioinformatics: a multidisciplinary field of research combining methods from computer science, statistics and biology. Modern high-throughput procedures require the systematic acquisition and analysis of ever larger, medically relevant volumes of data. Information sciences provide the leverage to harness the potential of these data for prognostic, diagnostic and therapeutic applications. But in other areas, too, such as phenotyping or precision breeding, the latest techniques require ever more comprehensive analysis of data.
The 49 companies employed 700 staff, almost 30% more than in 2021. Their turnover rose by 5.1% to €2.27 million; research and development expenditure climbed to €17.3 million (+6.1%).
6. Research & Development expenditure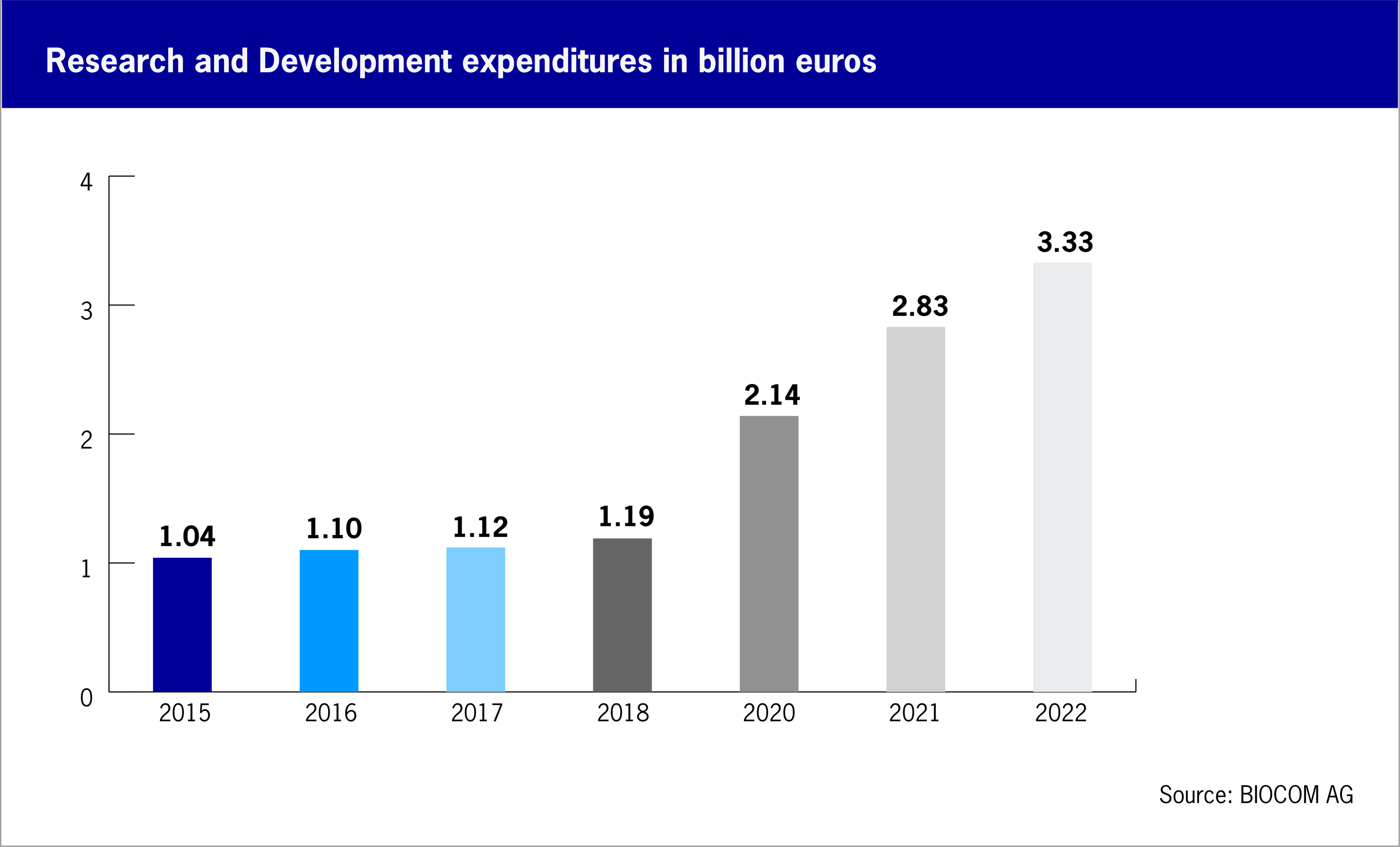 Research and development (R&D) spending in biotechnology in Germany continued to rise in 2022 - having broken the two-billion mark for the first time just two years earlier - and exceeded the three-billion mark. €3.33 billion was invested in R&D, an increase of 17.6% compared to 2021.
R&D spending by "red" biotech companies accounted for more than 90% of the industry's total research expenditure; within the sector, it rose by almost 19% from €2.54 billion in 2021 to €3.02 billion.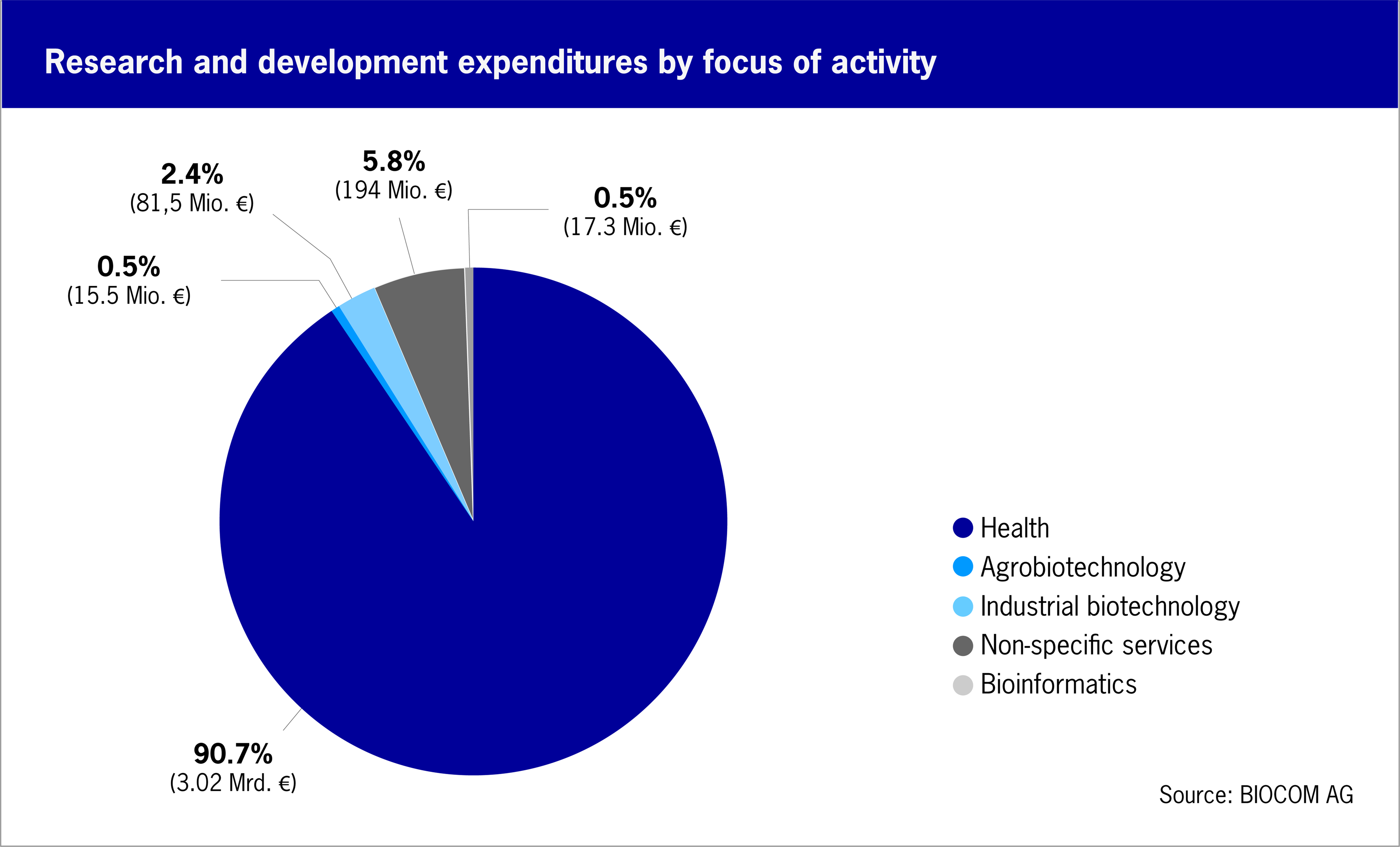 However, about half of the research expenditures (51%) in this sector were borne by the Mainz-based vaccine specialist BioNTech. BioNTech invested €1.54 billion in 2022, 62% more than in 2021 (€957 million), in the development and production of the bivalent COVID-19 vaccines adapted to Omikron and in the development of further pipeline candidates. CureVac, however, another pioneer in the field of mRNA-based technologies, has seen a completely opposite trend in research spending, with its vaccine failing to meet the desired outcome. While CureVac still invested €853 million in research in 2021, the figure was just under €63 million in 2022.
If R&D spending is analyzed excluding these two companies, the research budget in the field of medical biotechnology almost doubled. The remaining 393 companies spent €1.42 billion on R&D, compared with just €742 million in 2021. This shows that the companies still have sufficient funding, which was raised in the past two years.
R&D spending has also increased in almost all other biotech segments despite the difficult economic environment. In industrial biotechnology, research spending increased by almost 14% to €81.5 million. Biotechnology service providers and bioinformatics companies, respectively, increased by 5.4% and 6.1% (€194 million and €17.3 million). Only at the agrobiotech companies did R&D expenditure stagnate (€ 15.5 million).
7. Founding dynamics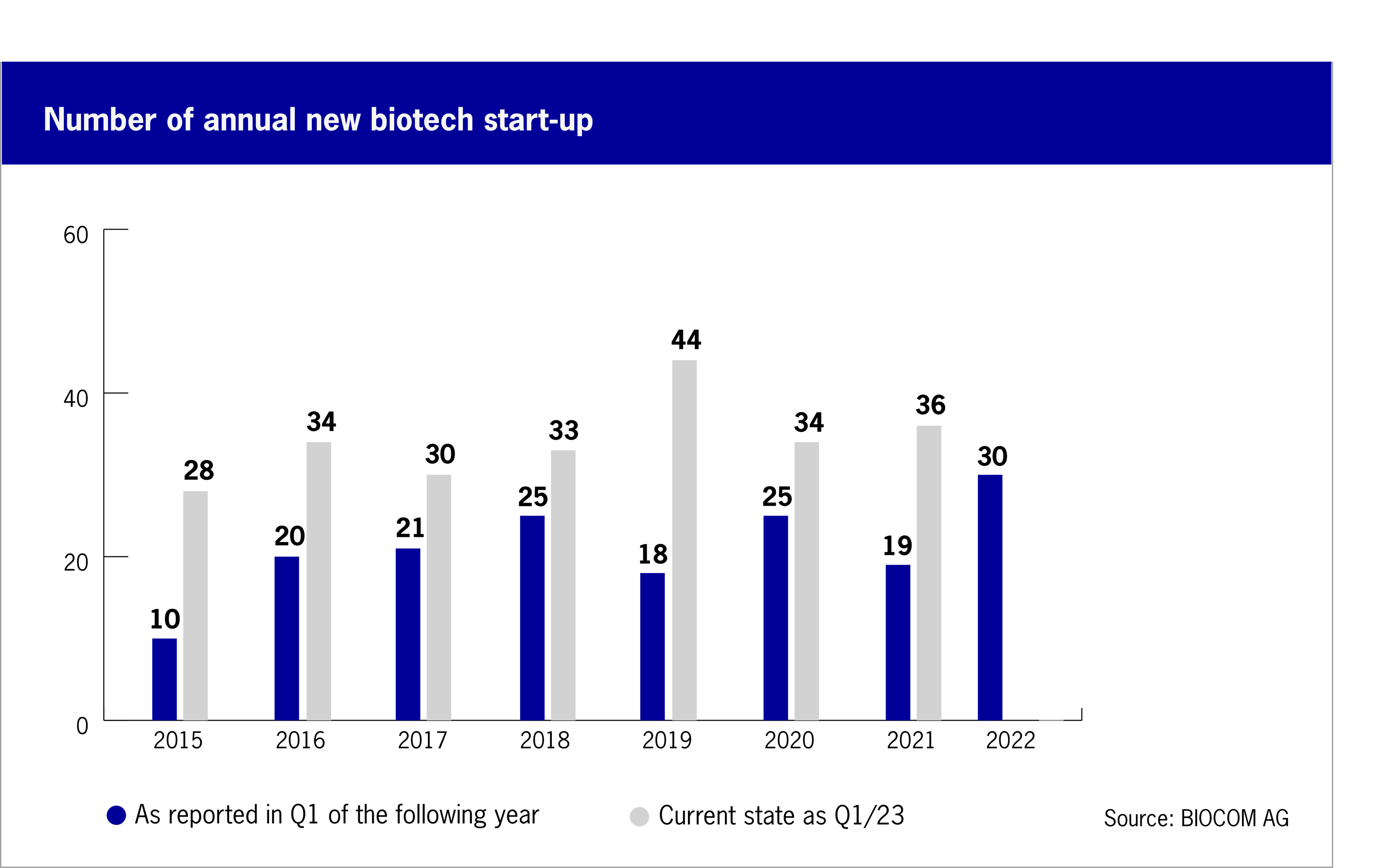 Shrinking economy, high inflation rates - this apparently did not faze those willing to found biotechnology companies. Last year, there was a veritable boom in the number of start-ups. At the end of the first quarter of 2023, 30 new start-ups were already reported for the year 2022. This high number has not been matched in the past ten years. Last year, only 21 start-ups could be listed at the same time. Since experience has shown that many start-ups become known retroactively for the previous year over the course of the year, it can be assumed that the actual number of start-ups is significantly higher.
As in previous years, start-ups from the medical sector (13) again made up the majority of the start-ups, closely followed by companies from the field of industrial biotechnology (10). The demand for sustainable solutions in the fight against world hunger and climate change triggered a veritable wave of start-ups in this field. Newcomers are primarily companies active in so-called cellular agriculture. They grow animal products directly from cells or with the help of microorganisms and also rely heavily on the capabilities of precision fermentation. In the future, fish, meat and dairy products can be produced in the laboratory instead of raising and slaughtering farm animals. This will not only produce new foods and reduce the burden on the climate, but also defuse land-use conflicts. Pasture land and the areas used to grow fodder could be developed to produce food for a growing world population, and further "consumption" of the remaining natural areas would be avoided in favor of biodiversity.
Four start-ups came from the field of bioinformatics, two are dedicated to non-specific biotechnology services and one company was founded in the field of agrobiotechnology.
8. Financing sources at a glance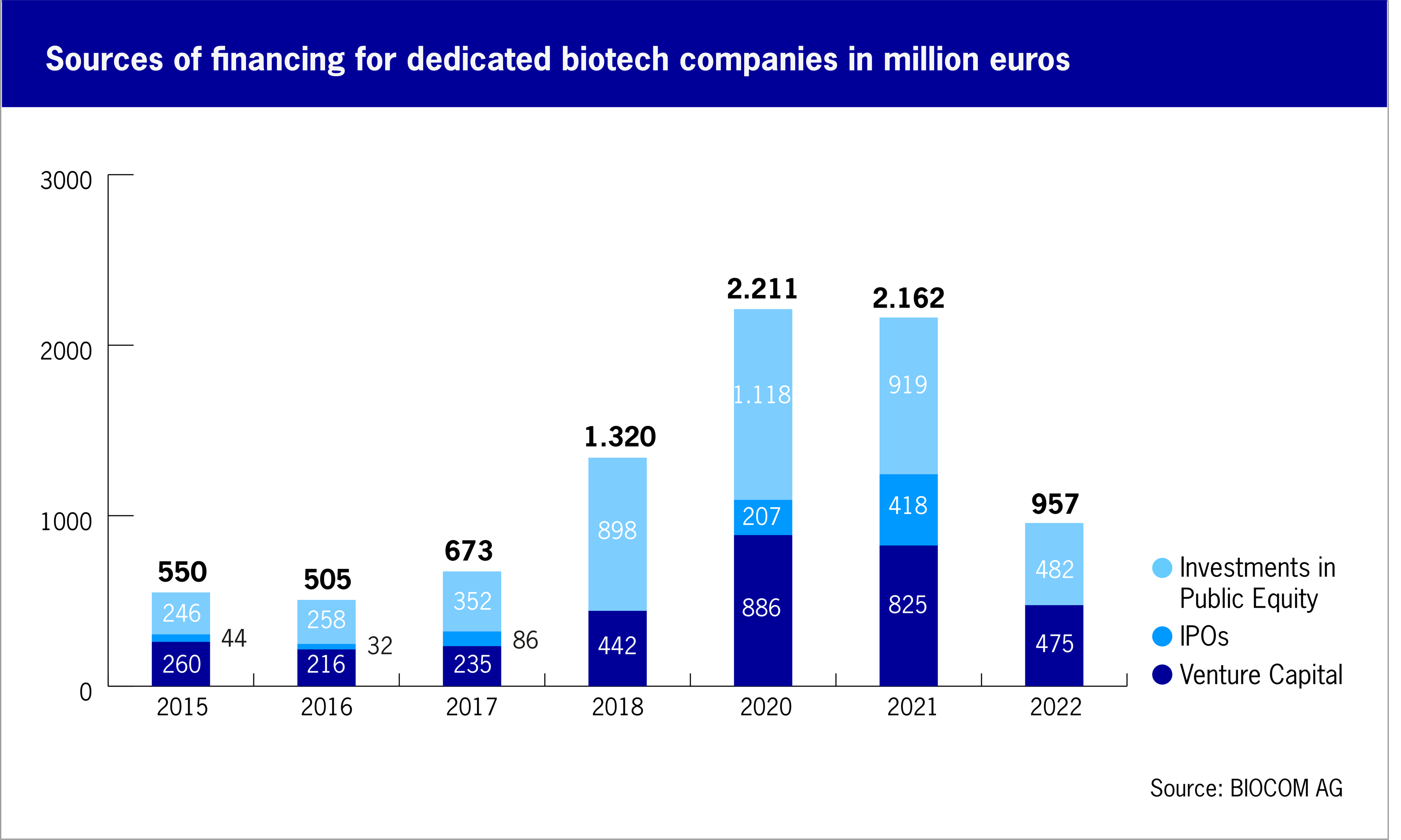 Following the high investment levels of the pandemic years, the volume of investment in 2022 flattened out again to the level of the years before the pandemic. On the one hand, many companies still had sufficient funds, and on the other, the willingness to invest also declined. The restraint of investors was certainly also due to the generally difficult economic situation.
In 2022, German biotech companies raised a total of €957 million - only 44% of the previous year's total. However, measured against pre-Corona investments between 2006 and 2019, it only came second to 2018, when companies were able to raise more than €1 billion.
Listed companies raised €482 million in ten rounds of capital increases. Private companies raised a similar amount, €475 million. However, as the investment amounts, including some seed and pre-seed rounds, were significantly lower on average, 32 companies benefited.
Top financing via the stock exchange
In April 2022, Nasdaq-listed Affimed NV, headquartered in Heidelberg, Germany, announced the completion of a €95 million capital increase; the company was already able to announce a similar sum in 2021. Affimed develops innovative therapeutic antibodies in immuno-oncology. They are intended to fight cancer cells by reactivating the body's own defense mechanisms. Two drug candidates are being tested in a series of studies targeting different types of cancer.
Heidelberg Pharma AG, which is also based in the Rhine-Neckar region and listed on the Frankfurt Stock Exchange, successfully placed a capital increase of around €80 million in August. The proceeds will mainly be used to conduct the ongoing Phase I trial with HDP-101 and to further develop the follow-up projects HDP-102 and HDP-103 and the proprietary ATAC® technology.
A further €113 million went to Baden-Württemberg. A capital increase by Immatics NV in October 2022 flushed €113 million into the company's coffers. This was the largest round of 2022. Immatics is a Nasdaq-listed biotechnology company headquartered in Tübingen, Germany. The company works on targeted immunotherapies against cancer. For this purpose, it identifies tumor-specific targets and develops matching T-cell receptors (TCRs) that can be used specifically against the respective tumor.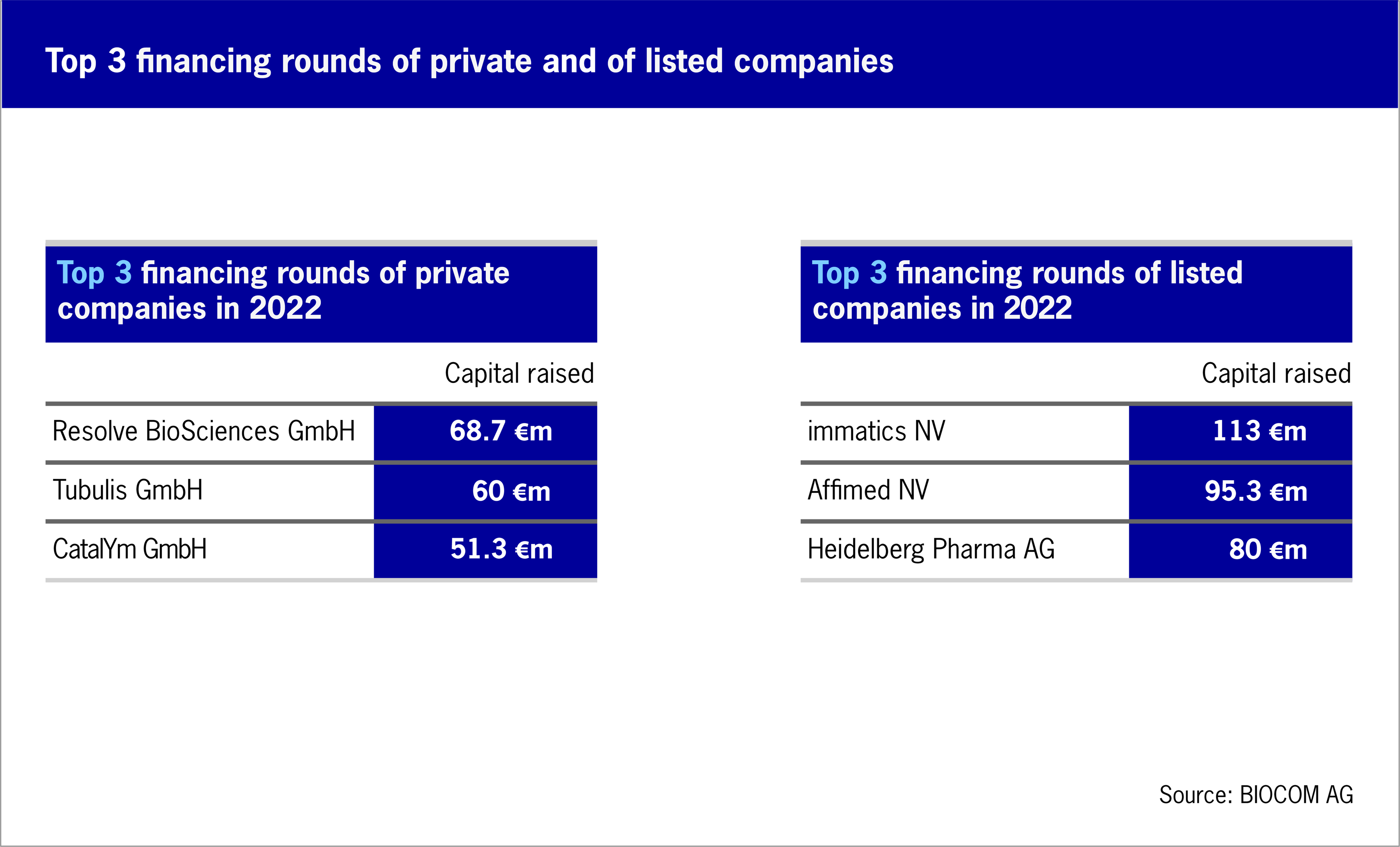 Top private biotech company financings
Tubulis GmbH, Planegg, Germany, which was only founded in 2019, announced the successful closing of a €60 million Series B financing round in May 2022. The new capital will be used to advance Tubulis' pipeline of antibody-drug conjugates (ADCs) toward clinical evaluation and launch programs for a range of solid tumor indications.
Nearly €69 million went to Resolve BioSciences GmbH in Monheim, Germany, in another B round in October. The company, also still very young, founded in 2020, describes itself as a pioneer of Molecular Cartography™ technology. Resolve's technology provides the highest resolution view of single-molecule subcellular biology, enabling researchers around the world to gain new insights into COVID-19 pathology as well as neurology, oncology and developmental biology.
Martinsried-based CatalYm was able to close a series C round in November. The €51 million raised will be used to advance the clinical development of the lead candidate Visugromab - a humanized monoclonal antibody designed to neutralize tumor-derived growth differentiation factor-15 (GDF-15).
9. Biotech sector as employer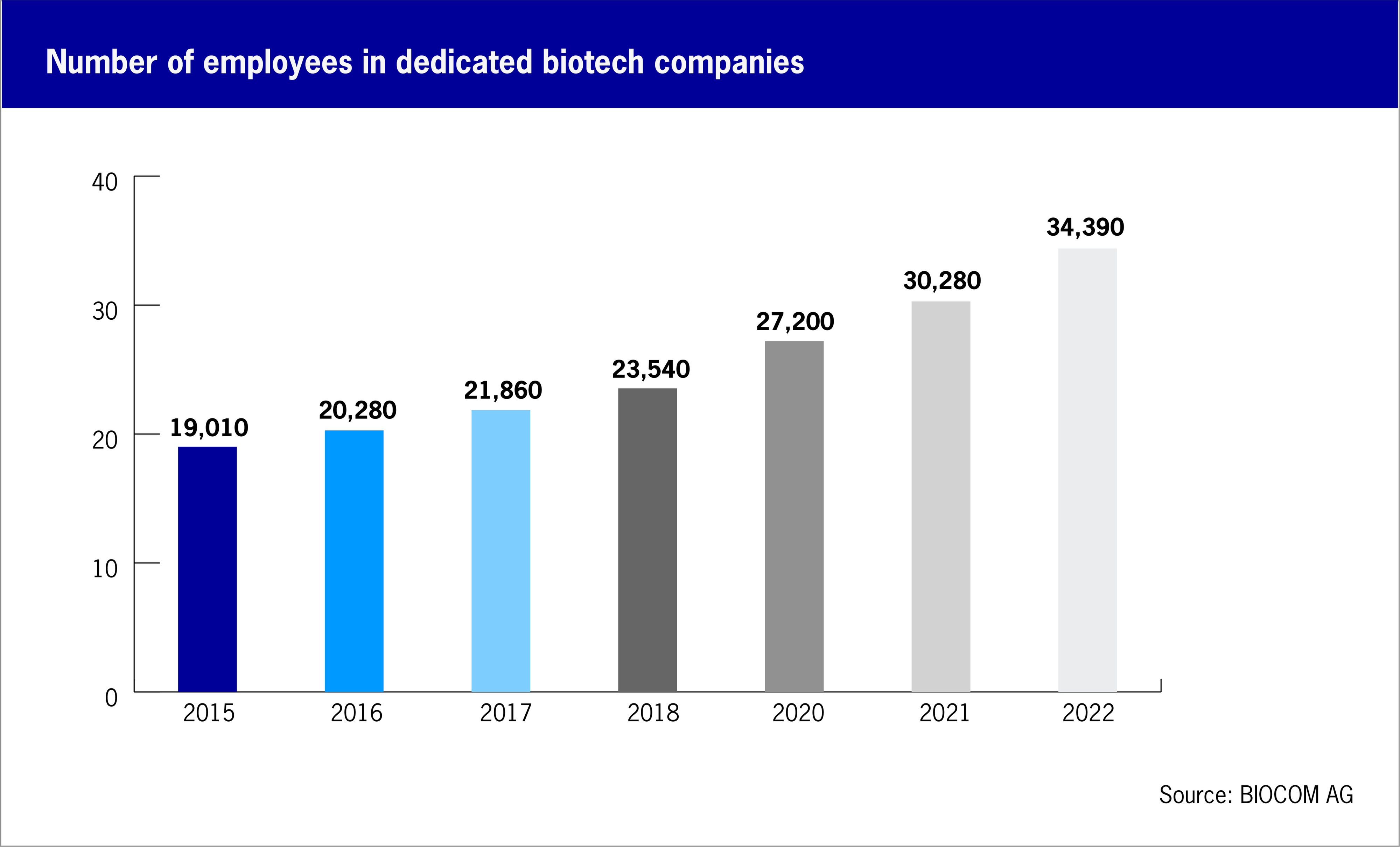 The number of employees in dedicated biotech companies increased by 13.6% to 34,390 in 2022. The highest increase of almost 30% was in bioinformatics companies, with 700 employees in this area in 2022. Industrial biotechnology companies saw an increase of almost 19%. Their number of employees increased from 2,150 in 2021 to 2,550. Companies in the non-specific biotechnology applications sector increased by just over 13% (11,200 employees), followed by almost 13% in the healthcare sector (19,540 employees). The number of employees in the agrobiotechnology sector remained unchanged at 400.
Additional Information