Your IPO at Deutsche Börse
Your IPO at Deutsche Börse
Shape your company's future with a listing in Frankfurt
As one of the largest international exchange organisations, Deutsche Börse helps your company gain access to the global capital pool you need to finance dynamic growth. Joining a Deutsche Börse listing segment additionally provides your company with the benefits of increased visibility among investors and a liquid market.
Rooted in Frankfurt, at home in Europe, connected to the world
Global operator - Frankfurt is a financial hub of undisputed importance in Europe – multiple international financial institutions and investors are represented here, alongside various supervisory authorities and the European Central Bank. With its headquarters located here, Deutsche Börse paves the way for companies to step onto the global stage.
International investors - With access to a broad range of international trading participants, being listed in Frankfurt draws attention all over the world. Deutsche Börse operates with Xetra® and Börse Frankfurt two trading venues of international and national reputation. The foreign trading volume on Xetra accounted 73% of the total trading volume in 2018.
Stable environment - In times of global uncertainty, Deutsche Börse is a reliable partner – something supported by Germany's stable political and economic environment as well as its intelligent regulations. Our objective is to help customers meet these regulations easily and efficiently.
Gain visibility alongside global market leaders - Enhance your company's international reputation as you are listed alongside global brands and market leaders like BMW, SAP, Siemens, Lufthansa and many more. Strong peer groups cover all sectors and companies of all sizes reaching from start-ups over thriving small and medium-sized enterprises to large blue chip companies.
Tailor-made and credible listing segments
Find out how companies seeking access to the capital market profit from a time- and cost-efficient Initial Public Offering (IPO). Take advantage of our fast admission process and access to one of our tailor-made primary market segments with clear transparency standards and high market credibility.

For detailed information click on the listing segments.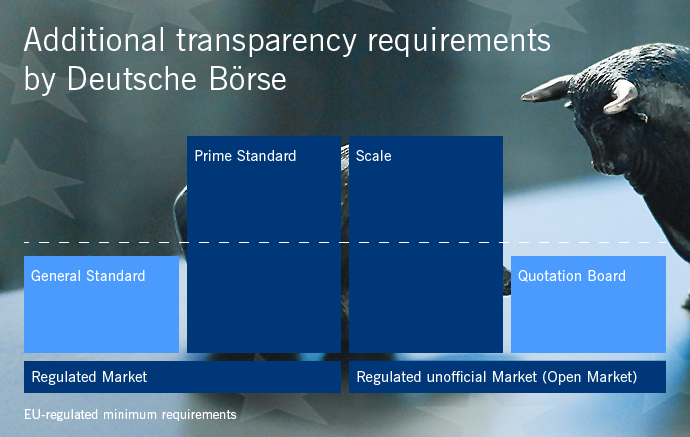 Additional Information