Legal Markets
Legal Markets
In Europe there are two ways to access the capital markets: There are regulated markets and markets regulated by the exchanges themselves.
The Regulated Market is an organised market in the sense of the Securities Trading Act and therefore an EU-regulated market. The admissions conditions and follow-up duties are set out in law, are based on European law, and thus conform to regulations that apply throughout the EU.
The Open Market (regulated unofficial market) is not an organised market in the meaning of the Securities Trading Act, but one regulated by an exchange itself. The Deutsche Börse AG General Terms and Conditions for the Open Market on FWB® the Frankfurt Stock Exchange regulate the conditions for inclusion and follow-up duties for securities listed in the Open Market.
On FWB® the Frankfurt Stock Exchange, an IPO in the Regulated Market leads to a listing in the General Standard or the Prime Standard, a segment of the Regulated Market subject to additional follow-up duties and thus higher transparency requirements. In the Open Market, the unofficial market regulated by the exchange itself, a company's securities can be listed in the Scale or on the Quotation Board.
The step-by-step route to an exchange listing
Our IPO line gives you a clear impression of all the important steps in going public through to first price determination. They include the selection of the issue partners, structuring the bond, compiling all the necessary documents, placement, and admission to / commencement of trading in your company's securities.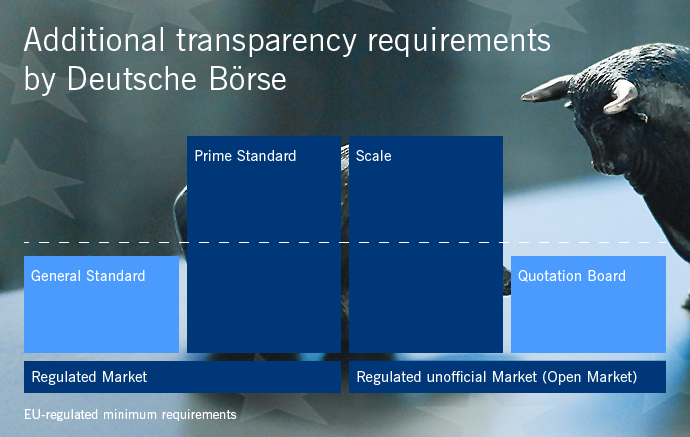 Additional Information