Scale for corporate bonds
Scale for corporate bonds
Sourcing outside capital for small and medium-sized companies (SME)

Deutsche Börse's services support you with the sourcing of outside capital through the exchange: Deutsche Börse Capital Market Partners assist in preparing for the major step of entering the capital market and provide competent ongoing support and through the subscription functionality DirectPlace you are able to reach retail investors, family offices and asset managers.
The listing of corporate bonds creates strategic room for growth and innovation and increases your company's public profile significantly.
Relevant target groups for Scale
German and European small and medium-sized companies (SME)
Companies, seeking capital for growth
No sector or industry specification

 
Scale is a segment of the Open Market approved by Frankfurter Wertpapierbörse (FWB®, the Frankfurt Stock Exchange). The admission criteria and follow-up duties are to be found in the General Terms and Conditions of Deutsche Börse AG for Participation in the Open Market for corporate bonds.
Overview of content
Key follow-up inclusion obligations
Key follow-up inclusion obligations
Certain obligations apply according to the Market Abuse Regulation and the German Securities Trading Act. The responsible authority for monitoring compliance with those follow-up obligations is the Bundesanstalt für Finanzdienstleistungsaufsicht (BaFin, German Federal Financial Supervisory Authority). In addition, issuers in Scale for corporate bonds must fulfil the follow-up inclusion obligations set by Deutsche Börse AG as outlined below:
Submission of the audited annual financial statements including the management report within 6 months after the expiration of the reporting period
Submission of the half-yearly financial statements including the interim management report within 4 months after the expiration of the reporting period
Submission of company or bond rating
Continuous updates and submission of the corporate calendar
Follow-up inclusion obligations are to be fulfilled in English or German
Conduct of an information event for analysts and investors at least once a year
Ad-hoc disclosures, directors' dealings, insider lists (by law) as well as notification of Deutsche Börse AG regarding significant changes concerning the issuer or included securities (by rules & regulations)
If not declared differently in the rules and regulations, all reports and documents must be submitted to Deutsche Börse AG via the Exchange Reporting System (ERS®).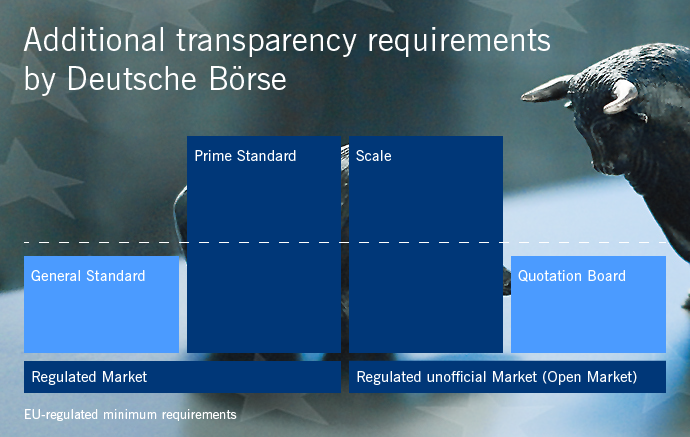 Additional Information