Market & Trends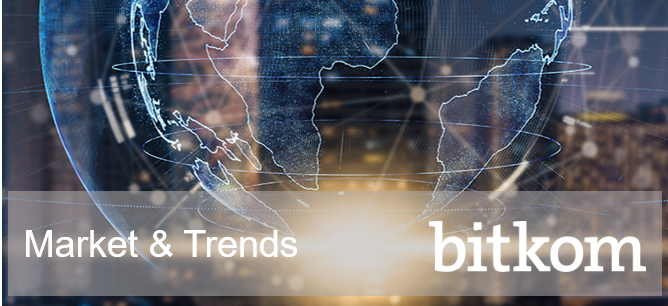 September 2020: Business climate slightly improved
Sentiment across the digital sector again improved slightly in September. The index, which reflects the sector's business situation, rose by 1.0 points to 13.3 compared to the previous month. This was mainly due to the fact that companies are more optimistic about the future. Business expectations for the next six months increased by 4.4 points to 10.0. In contrast, companies assess their current business situation slightly worse than in August, with the index falling by 2.7 points to 16.6.
The employment expectations index rose by 3.4 to 16.2 points. The majority of companies intend to hire additional workers over the next three months. The price expectations index fell slightly by 1.6 to 3.2 points. Most companies continue to expect rising prices.
Sentiment in the overall economy has also continued to improve. The German ifo business climate index rose by 2.0 points to 4.1, thus reaching a positive value for the second time since the outbreak of the pandemic. The business situation improved by 2.8 points to 3.2, while expectations were up 1.0 point to 4.9.
The complete Bitkom press release in German is available here.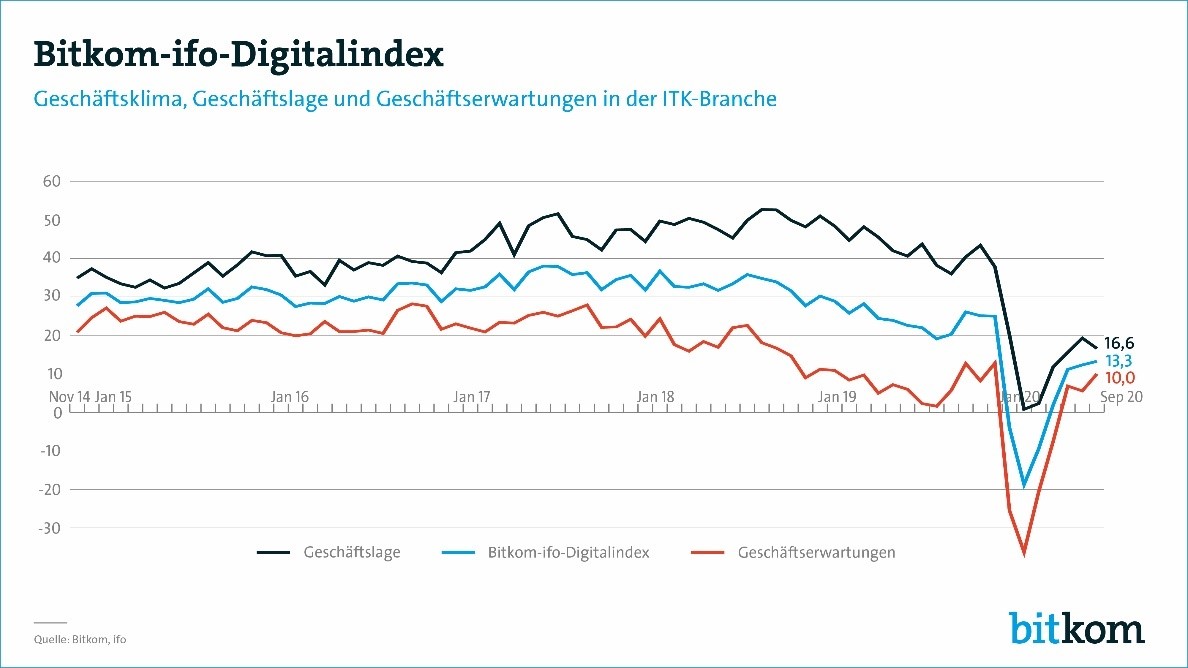 Note on the Bitkom-ifo Digitalindex:
The Digitalindex reflects the business climate in the digital sector. Based on the monthly ifo business survey, it is calculated from the geometric mean of the values for both the business situation and business expectations. It takes data from the digital sector into account, i.e. companies in the manufacturing, trade and service sectors. These include IT, communications technology and consumer electronics manufacturers, providers of software, IT services and telecommunications services, and ITC wholesalers and retailers. Weighting is based on the number of employees. The Digitalindex and the other time series are presented as seasonally adjusted balances.

According to the latest Bitkom forecasts, spending on IT, telecommunications and consumer electronics will see a moderate decline this year (-3.3 per cent) due to the COVID-19 pandemic, and is expected to reach a volume of €163.5 billion. In IT, sales of €88.2 billion are expected in 2020, a decline of 5.6 per cent compared to 2019. In the software segment, market volume is expected to decrease by 4.0 to €25.2 billion, while IT services are expected to slow by 5.4 per cent to €38.7 billion. In the IT hardware segment, a 7.5 per cent drop in revenue to €24.2 billion is expected.
Telecommunications has remained largely stable in 2020 with an increase of 0.4 per cent to €67.1 billion. The submarket for telecommunications terminal equipment is slightly down, at -1.1 per cent and €11.2 billion. Investments in telecommunications services and infrastructure are expected to rise moderately by a respective 0.7 per cent to €48.8 billion and 0.5 per cent to €7.1 billion in 2020.
Consumer electronics sales continue to decline, with an expected market volume of €8.2 billion (-7.0 per cent) for 2020.

Data source: Bitkom, EITO; As at June 2020
The ITC market figures – the time series on ITC expenditures in Germany – are updated every six months. More detailed figures on the German ITC market and other European and international markets are available in the EITO market reports published by Bitkom Research.

Bitkom is Germany's digital association. Founded 1999 in Berlin, it represents more than 2,700 companies of the digital economy. Among its members are more than 1,000 SMEs, over 500 start-ups and virtually all global players.
The association members offer software, telecommunications and internet services, produce hardware and consumer electronics, operate in the digital media sector or are in other ways affiliated with the digital economy. An increasing number of companies across all sectors are joining Bitkom as they are working towards the digitisation of their business models.  
Bitkom advocates the digitisation of the economy, of society and public administration, the faster rollout of gigabit networks and digital infrastructure for energy, mobility, trade and smart homes, for cities and regions. Bitkom's efforts are aimed at supporting policies for data-driven business models, data protection and cybersecurity, for platforms, disruptive technologies and work 4.0. Among its key concerns: education tailored to a digital world, in schools and universities, as well as new forms of life-long learning, which are becoming increasingly important.
Source: The German digital association Bitkom and the Deutsche Börse Capital Market Partners
Additional Information