Biomanufacturing
Dossiers
At regular intervals, key topics of relevance to the biotech industry are highlighted, with key facts and figures compiled and current trends and developments presented. The first topic covered is biomanufacturing.
1. Introduction: growing role of biopharmaceuticals
Biopharmaceuticals are being used as a treatment in an increasing number of disease areas. Both in the area of common diseases - cancer, neurological diseases or inflammations - and in the treatment of rare diseases, the need for targeted therapies that address the causes of the diseases is increasing.
This development also leads to a growing demand for production and manufacturing services delivered by so-called contract manufacturing organizations (CMOs). The dossier provides an up-to-date overview of the biopharmaceuticals market as well as trends and developments in biomanufacturing. 
Biopharmaceuticals in Germany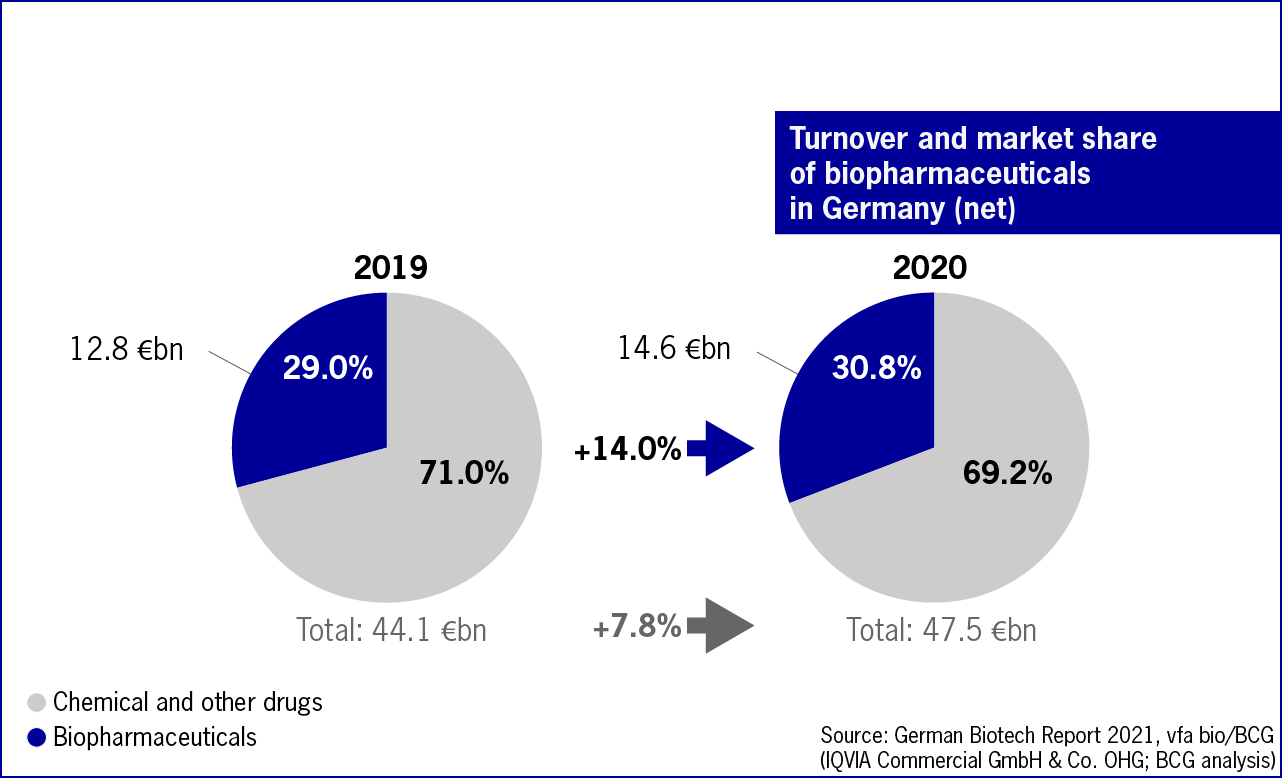 According to the German Biotech Report 2021, which was published in June and is published annually jointly by the German pharma industry association vfa bio and the Boston Consulting Group (BCG), biopharmaceuticals generated turnover of around €14.6bn in Germany in 2020. This corresponds to a growth of 14% compared to the previous year, and an increase of the market share from 29% to 30.8% within the overall pharmaceuticals market. The increased use of biosimilars is also contributing to this growth. As a rule, they achieve significant market shares of up to 60% already in the first year after their approval. In 2020, 52% of all biopharmaceuticals were biosimilars.
The share of newly approved biopharmaceuticals – provided as the sum of originator products and biosimilars – in the total number of new drug approvals in Europe is also growing steadily. In 2020, 25 EU approvals out of 56 were in the biopharmaceuticals area. As pointed out by the authors of the vfa bio/BCG Biotech Report, this is the eighth year in a row that the number of biopharmaceutical approvals has been in double digits. Overall, the 16 original biopharmaceuticals and nine biosimilars account for almost half (45%) of the new approvals.
Approved drugs per indications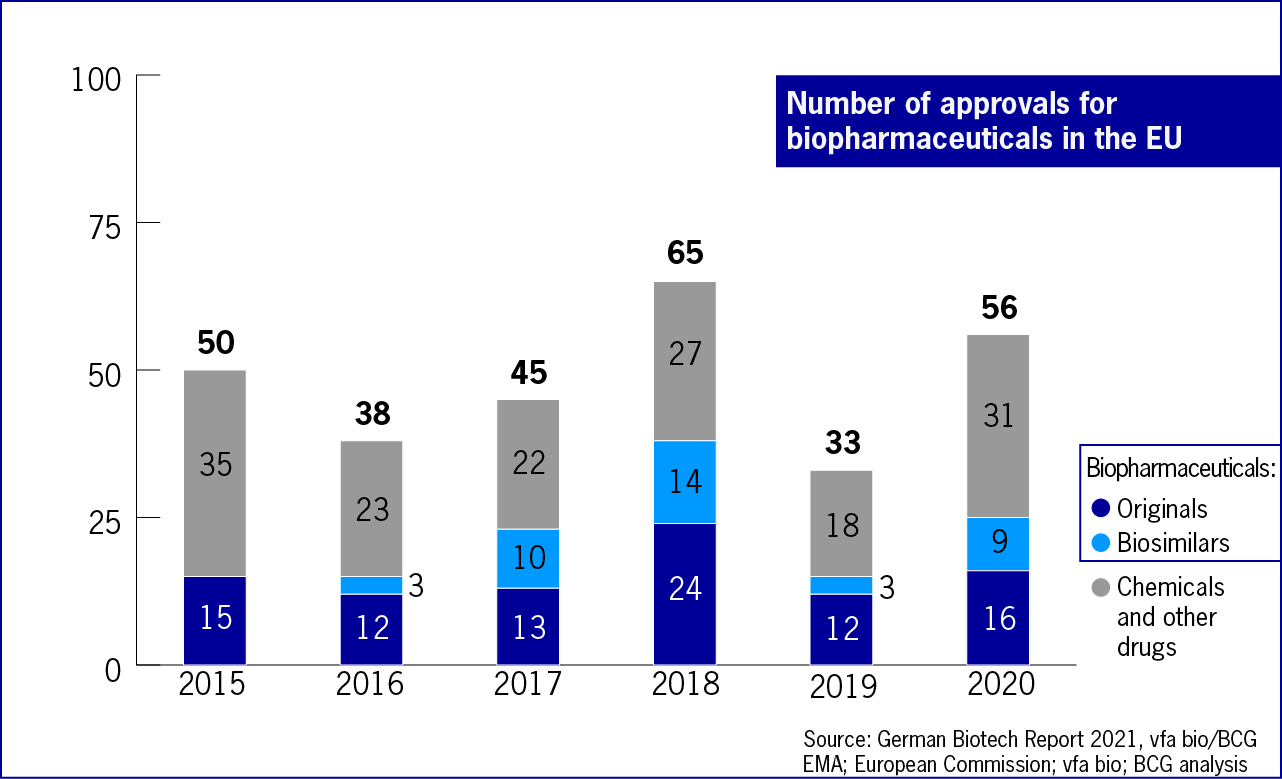 The overview of indications related to the 25 new approvals shows that biopharmaceuticals are available for a broad spectrum of diseases. The 25 new biopharmaceuticals approved in 2020 cover the following therapeutic areas and product classes (see table below):
Recombinant antibodies (including six biosimilars)
other recombinant proteins (including three biosimilars)
three advanced therapies (ATMPs) and four new vaccines.
Late last year, in addition, the first mRNA-based vaccine against COVID-19 approved in the EU was added.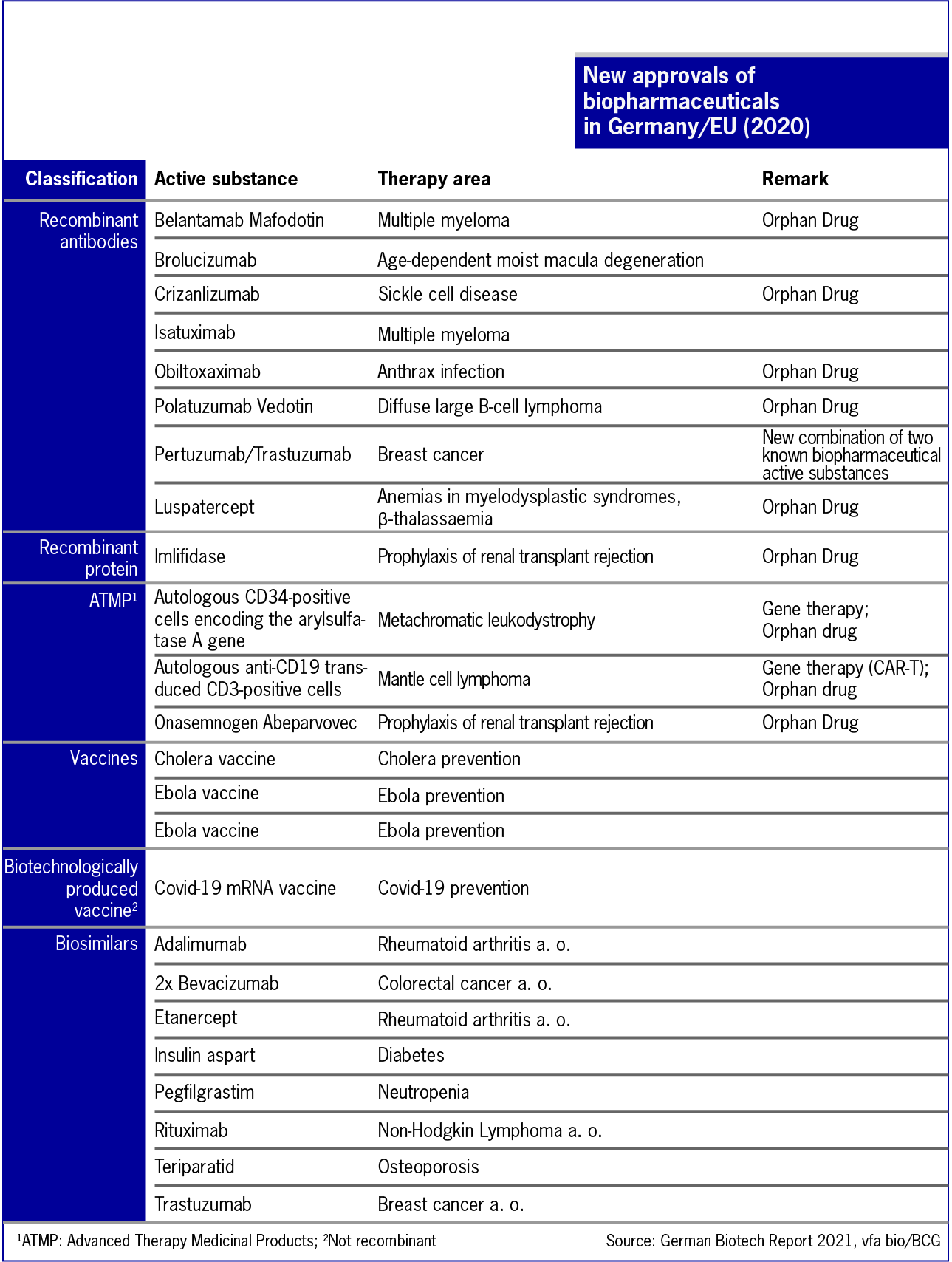 At the end of 2020, a total of 339 biopharmaceuticals (including biotechnologically produced vaccines) were approved for the German market. This represents an increase of 8% compared to the previous year. As in the years before, the focus was on recombinant antibodies, which at 107 accounted for almost one-third of all approved biopharmaceuticals. In addition to the "classic" antibodies, recombinant antibodies also include derivatives based on complete antibody molecules (e.g. fusion antibodies), derivatives based on reduced antibody molecules (e.g. nanobodies) and antibody conjugates (e.g. antibody-drug conjugates, ADCs). Together with vaccines, antibodies account for a half of all biopharmaceuticals approved in the EU/Germany.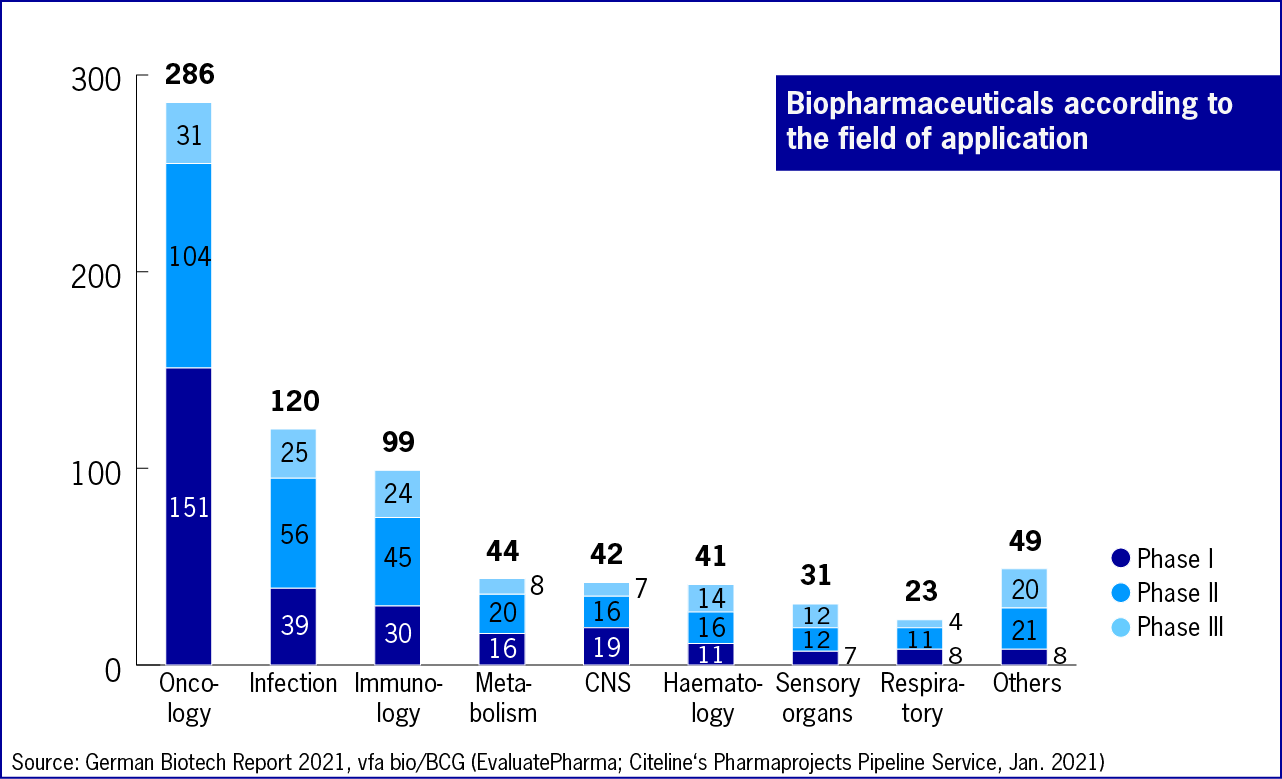 2. Germany as manufacturing location for biopharmaceuticals
Germany's position as a production location for biopharmaceuticals is internationally impressive. Only the US produces more biopharmaceuticals – Germany continues to be the world's number 2 here. In terms of production capacity (by fermenter volume), Germany is currently ranked on fifth place.
According to the vfa bio/BCG analysis, there are 165 production sites in Europe, 44 of which are located in Germany. In the US, there are 105 sites focused on biopharmaceutical production. The long-term trend sees growth in manufacturing facilities primarily in countries such as South Korea and Switzerland, where a comparatively large number of new capacities will be created in the coming years.
But in Germany, too, the signs are pointing to growth, not least thanks to the triumphant advance of mRNA-based vaccines. German companies are among the pioneers in COVID-19 vaccines. However, not only BioNTech and Curevac, but also a number of German contract manufacturers and foreign companies that have sites in Germany are part of the vaccine production value chain in this field. These include companies such as Rentschler, Allergopharma, Siegfried, Baxter, Wuxi, R-Pharm, IDT Biologika, Richter-Helm and Dermapharm. But also the acquisition of the mRNA specialist AmpTec by Merck at the beginning of 2021 once again illustrates the expertise of German companies in this field.
One advantage of the German biomanufacturing sector is its comparatively strong focus on innovation. This is clearly reflected in the diversity of biopharmaceuticals available. When it comes to new molecules, the German CMO landscape is well positioned. In order to efficiently process novel therapeutics (e.g. cell and gene therapy or viral vaccines), CMOs need long experience in bioprocess and process engineering as well as strong networking with relevant research players. Here, Germany, which is first-class in engineering, can rely on a resilient infrastructure.
Many academic institutes and technical universities in Germany focus on the research and development of new bioprocessing methods and tools. Pharmaceutical companies worldwide make use of this know-how through collaborations and local subsidiaries. In turn, researchers are supported by a network of hospitals and university clinics that have many years of experience with clinical trials. In addition, CMOs do not have to search long to find suitable suppliers for fermenters and bioreactors. The establishment of incubators and innovation centers for start-ups from the life sciences has also increased in recent years with the raise of  the development of further new therapy approaches (see chap. 4 of the dossier).
The German supplier sector is well established, with innovative companies offering both high-throughput technologies and cost-effective standard options, as well as specialised on-demand solutions. All these factors enable German CMOs to offer highly efficient bioprocesses that are not only available in high quality but also at a competitive price. To keep up with the trend of globalisation, German companies are also focusing on the consistent expansion of their international networks and the establishment of more international subsidiaries. Most recently, for example, contract manufacturer Rentschler announced the start of construction of its Rentschler Biopharma Manufacturing Center US (RBMC US) near Boston in the summer of 2021, thus initiating the further transformation towards a multi-product facility. To reduce the complexity of biopharmaceutical production, the facility is designed to be easily adaptable to changing customer needs. The production center is scheduled to be operational by the end of 2023.
German companies also use a variety of expression technologies, ranging from microbial and mammalian cell lines to plant-based systems. According to the European Medicines Agency, 60% of all biopharmaceuticals are currently produced in mammalian cells, with hamster cells dominating approved drugs. Germany has accumulated many years of experience and know-how in this mainstream segment. Many biopharmaceutical manufacturers are also working with novel expression systems to further optimise their technology. Of particular note is ongoing research into production with insect, moss and algae cells.
3. Global trends in biomanufacturing
Internationally, the entire area of drug manufacturing is facing major challenges: new therapeutic approaches such as gene and cell therapies require new manufacturing methods, while at the same time demand for traditional biopharmaceuticals such as antibodies remains high. The Corona pandemic has also led to a veritable explosion in demand with regards to vaccines, so that existing capacities have sometimes had to be converted at record speed.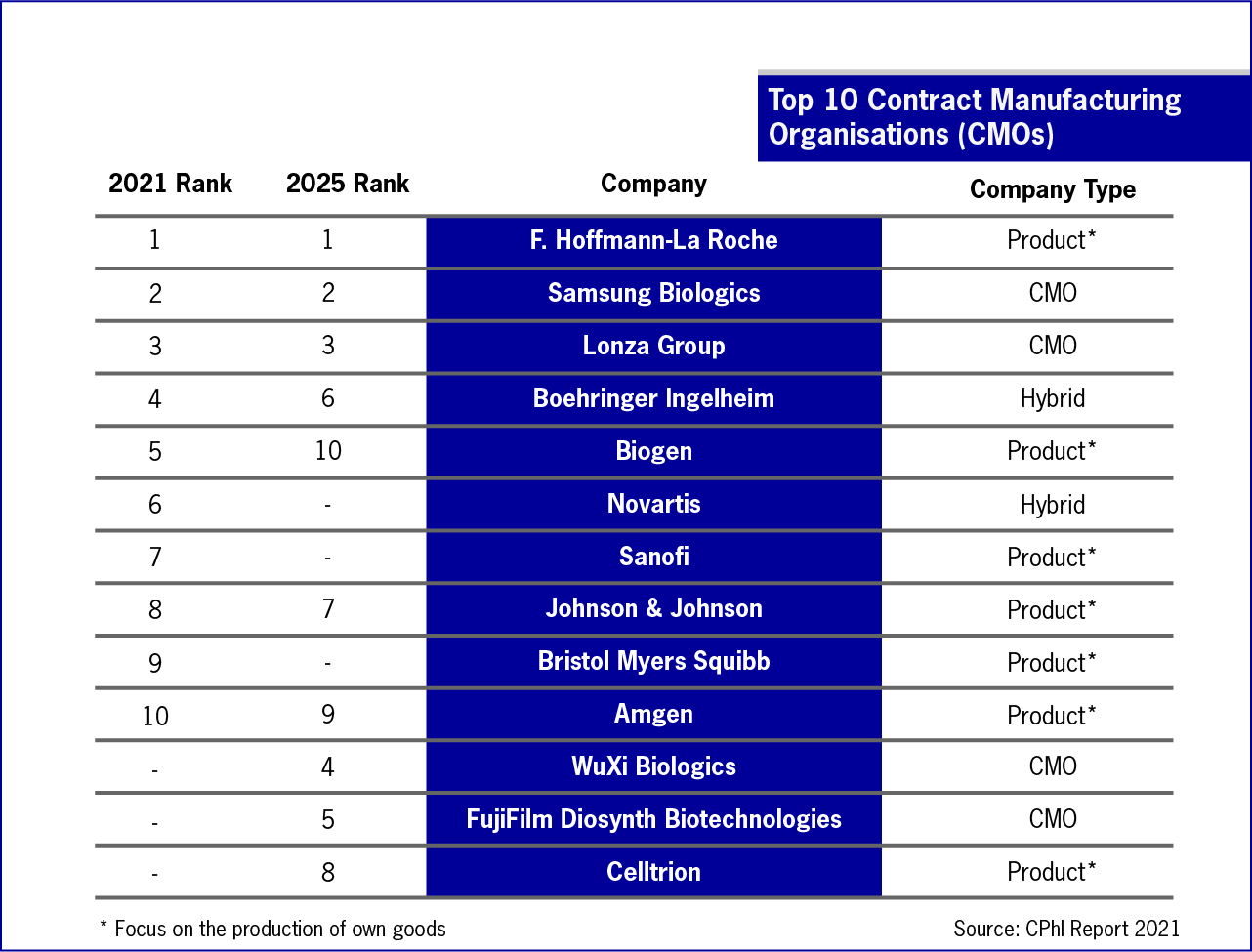 All this has also led to a steady increase in the market for biomanufacturing services. Outsourcing has become a common strategy in the pharmaceutical industry, but pharmaceutical groups such as Roche, Novartis, Sanofi or Biogen – together with Boehringer Ingelheim, which manufactures both its own drug pipeline and external drugs – still hold the majority of global production capacities for biopharmaceuticals.
Against this background, there have been hardly any changes in the list of the top 10 manufacturers over the past few years - and experts do not expect this to change until 2025. According to the current industry report 2021 of the pharmaceutical conference CPhI-, Boehringer Ingelheim is currently in fourth place in the international ranking. According to the report, in the long term, there are signs of a dynamic trend among some Asian contract manufacturers in particular, who are investing massively in the expansion of their facilities. These include in particular WuXi Biologics and FujiFilm Diosynth Biotechnologies.
Importance of service providers
There are numerous reasons for therapy developers to make use of a CMO. Cost efficiency and short time-to-market are crucial factors in a highly competitive industry. For many pharmaceutical companies, using a CMO with established processes is the only way to keep expenses at a reasonable level and time-to-market as short as possible. CMOs are also needed when demand exceeds drugmakers' internal production capacity. Some manufacturers prefer to focus on core competencies or do not have the high level of specialisation required for certain bioprocessing tasks. In addition, in the highly regulated field of biopharmaceutical processing, contract manufacturers can ensure compliance with the latest requirements. Finally, many small and medium-sized companies have no choice than to outsource their biopharmaceutical manufacturing activities because they do not operate their own production units.
Trend toward greater cost efficiency and optimization
The need for innovation in the CMO sector is high, as cost efficiency is a determining factor in the comparatively expensive production of biopharmaceuticals. Most technological advances in recent years have been aimed at improving productivity and efficiency. New technologies also increase flexibility or serve as alternatives or complements to standard production processes, depending on the customer's specific requirements. Automation, digitalisation and Industry 4.0 are also topics on the agenda to drive cost efficiency.
In the area of process technology, many German CMOs have positioned themselves as pioneers in the continuous optimisation of bioprocess technology – both upstream (i.e., in the production of the biomolecules) and downstream (i.e., in the steps after extraction), including testing, purification and packaging of the product. For a long time, upstream processing presented a greater challenge in terms of process improvements. In recent years, however, upstream processing techniques have made great progress in eliminating capacity bottlenecks in biomanufacturing and increasing yields, such as with the introduction of new technologies. Perfusion, for example, allows for the constant renewal of the culture medium and the removal of waste and the actual product. This has the potential to speed up production and makes the process particularly suitable for biologics that are prone to degradation. Perfusion also enables continuous bioprocessing, which is widely regarded as the key to greater efficiency and productivity.
4. New therapies as growth drivers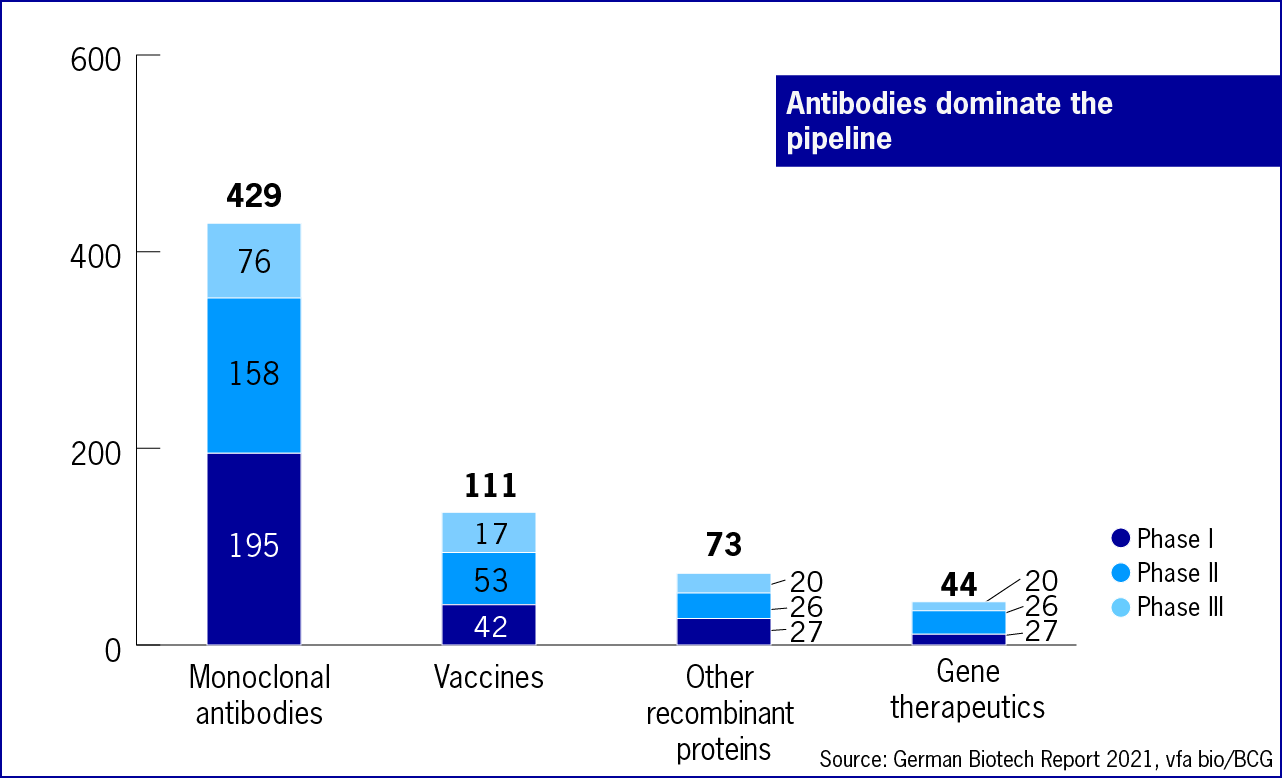 The biomanufacturing sector is of course not only dependent on which therapeutic molecules are actually in demand and used in clinical practice, but also on which drug candidates are currently in clinical phase I to III trials. A look at the biopharmaceuticals currently in clinical phases, as regularly reported by the vfa bio association in its German biotech statistics, still shows the dominance of recombinant antibodies: At 65% (2019: 64%), they still account for the lion's share of development candidates (429 of 657 projects), which underscores their importance as a growth driver in medical biotechnology. However, gene therapies are also on the rise. They recorded the strongest growth compared to the previous year (+29%). In absolute terms, this corresponds to an increase of ten to 44 projects. In the case of projects involving "other recombinant proteins," the long-term downward trend continued, with the number of candidates now at 73 (-3%), interrupted only briefly in 2019. Vaccines, on the other hand, increased slightly for the second year in a row, with 111 development candidates.
New challenges for manufacturers in gene and cell therapies
In particular, the trend towards new gene and cell therapies poses a challenge for biomanufacturing. For example, five CAR-T cell products have been approved worldwide since 2017. According to expert estimates, there are around 1,220 further cell and gene therapies in the clinical pipeline. By 2025, regulatory authorities in the EU and the US expect 10 to 20 such new products per year. Several thousand patients could benefit from this treatment each year. However, the complex industrial production of CAR-T cells currently takes place at only a few pharmaceutical industry sites worldwide or in contract development and manufacturing organizations (CDMOs). Among the companies active in this field in Germany is Sartorius. In addition to technologies and materials for the production of biopharmaceuticals, the company also produces single-use bioreactors, which are particularly well established in the field of cell and gene therapy.
Nevertheless, the logistics associated with previous production methods and the largely manual production in clean rooms cause high costs in the field of cell therapies, so that current costs of commercial CAR-T cell products amount to around €300,000. However, there is increasing pressure on production service providers to enable more cost-effective production. Alternative models such as decentralised automated CAR-T cell production could contribute to cost containment. Such approaches are also being researched in Germany, for example in the "ProCell for Patient" project. Here, the Robert Bosch Hospital (RBK) in Stuttgart and Heidelberg University Hospital (UKHD) have been working with the company Optima Pharma since 2020 to develop an automated system for the decentralised production of a CAR-T cell products in treatment centers. The project is being funded by the Baden-Württemberg Ministry of Economics, Labor and Housing as part of the "Forum Gesundheit Region Baden-Württemberg" initiative.
Innovation in demand in the field of bioprocess technology
Reducing upstream and downstream costs is one of the biggest levers in the biomanufacturing sector. One of the challenges is that upstream processes have improved dramatically in recent years, but as a result, downstream processes (i.e., further processing of the biomolecules produced) have emerged as a new bottleneck. To keep up with higher upstream titers, there is an acute need for new technologies. German companies are leading the way in developing and introducing new technologies into the downstream process. These include buffer dilution systems, flow and continuous chromatography, membrane technology and continuous purification systems. In addition to these much-needed technological advances, innovations in formulation can also have a positive impact on productivity. New formulation technologies can increase the stability of biomolecules and allow them to be stored unrefrigerated, reducing storage and shipping costs.
One overarching innovation that the German CMOs have introduced is the use of single-use systems. This approach requires that all components that come into contact with the product are used only once. This eliminates the time-consuming cleaning of fermenters, tubing, etc. between runs. Single-use systems are also less susceptible to contamination from carryover. They are particularly suitable for smaller product volumes. Another trend is the use of optical - and non-contact - measurements of process parameters. Chemical-optical sensors allow continuous monitoring of culture parameters in real time, without the need to take samples that could potentially disrupt the manufacturing process.
Start-up and innovation centers on the rise
In view of the high pressure to innovate, there is a growing trend towards the establishment of dedicated start-up hubs and strategic collaborations between research institutions and companies. This development is also emerging in Germany.
One current project, among others, is the Life Science Factory in Göttingen initiated by Sartorius, which has already been offering start-up mentoring since 2019 and will also enable researchers and startups to quickly launch new projects directly on site from January 2022. The start-up hub in the Sartorius Quarter will have four floors of S1 labs, with the option to upgrade to S2 labs, a prototyping workshop, and office, event and community space. In addition, there will be common areas, such as equipment rooms for centrifuges, bioreactors or for cell cultivation. The laboratories will also be flexible and modular to meet the needs of future users. According to Sartorius start-ups such as Curexys and Cinference have already expressed interest in using the facilities.
Start-ups get into position 
In addition, Germany offers good framework conditions for gaining a foothold with new approaches in biomanufacturing. This is demonstrated, among others, by the example of Contivir. This is a €1.6m EXIST research transfer project (jointly funded by the European Union and the German federal government) with the aim of enabling the production of viral vaccines and gene therapies at the bedside by simplifying, miniaturising and decentralising manufacturing. ContiVir's laboratories are located at the Department of Bioprocess Engineering at Otto von Guericke University Magdeburg. According to the researchers, ContiVir's membrane-based steric exclusion chromatography (SXC) offers an efficient and rapid method for purifying virus particles that has the potential to eliminate bottlenecks in production. Disposable devices are used to capture and concentrate virus particles from a production process using a universal recipe that shortens process development and deployment. In September 2021, the planned spin-off from the Max Planck Institute for Dynamics of Complex Technical Systems Magdeburg was awarded the "Innovation Prize 2021 of the German BioRegions".
Additional Information