CMS Deutschland
CMS Deutschland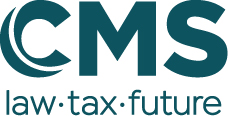 Who we are
CMS Germany is one of Germany's leading commercial law firms. Across Germany, CMS has deep roots in eight major business locations as well as close relationships with the other law firms in the CMS network going back many years More than 4,800 lawyers and tax advisors, working in more than 70 offices, will support your company on its successful advance in challenging times.
Watch the CMS corporate video here.
What we do
More than 600 lawyers and tax advisors offer advice to SMEs and major corporations throughout Germany on all aspects of national and international commercial law. We have an excellent legal and economic base of knowledge which leads to an extensive range of services covering all areas of law and providing deep expertise of regions and sectors in which our clients operate. This concept enables us to offer advice on transactions and projects as well as on all aspects of day-to-day operations – from a single source!
What makes us different
CMS was quick to recognise the opportunities and challenges of global business, and aligned its service offering accordingly. Efficient cross-border collaboration in multinational teams is a daily reality for us – either within the CMS network or with partner firms from the World Law Group, which provides us with expertise in countries where we do not have our own presence. Over the past decades, our capital markets practice has made itself a name as a highly noted player in the German market. Our know-how goes far beyond finance-related advice, but we offer a particularly close collaboration of experts with multiple specialisations and a truly international footprint.
Corporate Responsibility
CMS Germany has long been involved in charitable activities at the firm and office level through donations and pro bono activities. In 2016, the "CMS Stiftung" (CMS Foundation) was established with the aim of providing qualified legal advice and representation to people in need. Everyone should be able to rely on our legal system, regardless of background, education or social standing. To achieve this, the CMS Stiftung cooperates closely with expert organizations, law clinics and other initiatives. CMS also takes responsibility for the society in which we live and work in other areas, such as diversity and good training and working conditions.
Business fields
DirectListing
Investor targeting / investor roadshow / analyst meetings
Drawing of Prospectus / Due Diligence
Legal Advice
Support follow up obligations
IPO advisor
Support listing (IPO) und capital market financing (Equity)
Support bonds (Debt)
SPAC
ESG services
DirectPlace
Equities
Pacifico Renewables Yield AG
NFON AG
Capital Stage AG (now Encavis AG)
Telefónica Deutschland Holding AG
Bonds
Telefónica Deutschland Holding AG
Transaction

Sustainability-Linked Loan

Mandate

Advisor to the Issuer

Issue size

750 Mio. €

Internet
Encavis AG
Transaction

Perpetual subordinated bonds without a fixed term

Mandate

Advisor to the Issuer

Issue size

250 Mio €

Date of transaction

19 Nov 2021
hep global GmbH
Transaction

Issuance of Green Bonds

Mandate

Advisor to the Issuer

Issue size

up to 25 Mio €

Date of transaction

18 May 2021
Crédit Mutuel Home Loan SFH S.A.
Transaction

Covered Bond Issuance Programme

Mandate

Advisor to the Issuer

Issue size

€1.25 bn

Date of transaction

19 Jan 2022

Internet
Additional Information