Market Surveillance in Germany
Market Surveillance in Germany
Market Surveillance ensures proper conduct of trading
A functioning market surveillance is indispensable for the proper conduct of exchange trading including the correct determination of prices in accordance with the rules. In Germany, several authorities work closely together here.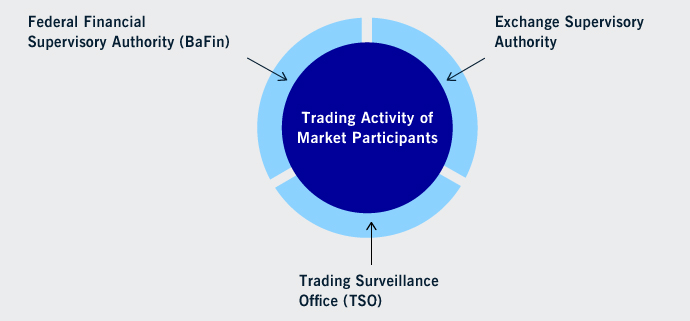 Federal Financial Supervisory Authority (BaFin) Exchange Supervisory Authority (BAB)
Trading activities and market participants
Trading Surveillance Office (TSO)
Their aim is to ensure national and international standards are upheld.
The TSO monitors trading
According to § 7 of the German Exchange Act (BörsG), the Trading Surveillance Office (TSO) is an independent stock exchange body and part of market surveillance. It monitors exchange trading and the settlement of exchange transactions on the cash market (Frankfurt Stock Exchange) and the derivatives market (Eurex Deutschland). 
Additional Information