Market Surveillance in Germany
Market Surveillance in Germany
Market Surveillance ensures proper conduct of trading
A functioning market surveillance is indispensable for the proper conduct of exchange trading including the correct determination of prices in accordance with the rules. In Germany, several authorities work closely together here.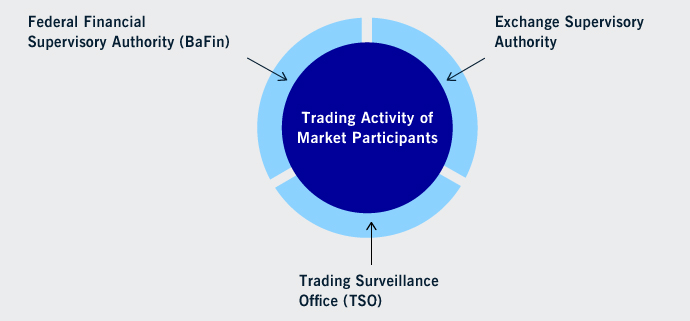 Federal Financial Supervisory Authority (BaFin) Exchange Supervisory Authority (BAB)
Trading activities and market participants
Trading Surveillance Office (TSO)
Their aim is to ensure national and international standards are upheld.
Overview of content
Investigations and operations of the TSO
Investigations and operations of the TSO
The primary data collection is carried out systematically and comprehensively on the basis of trading and order data from the trading systems of the stock exchange. In addition, information from various sources flows into the analysis. These can be, among others, ad- hoc disclosures, news and announcements.
As a result of this broad information base, potential violations of stock exchange regulations and orders as well as malpractices are investigated and uncovered. Investigation results are communicated to the management of the respective stock exchange, the supervisory authorities or, if necessary, to the law enforcement authorities.
Suspected cases of market manipulation or insider trading are reported to the German Federal Financial Supervisory Authority (BaFin).
The TSO works closely with the Management Board and other bodies of the exchange and is involved in the development of new products, market models and rules and regulations.
In addition, the TSO cooperates with supervisory authorities and other bodies responsible for the supervision of stock exchanges domestically and abroad.
Additional Information