ODDO BHF Aktiengesellschaft
ODDO BHF Aktiengesellschaft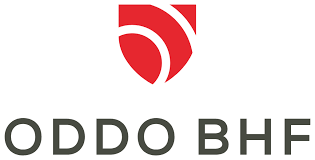 Who we are
ODDO BHF Aktiengesellschaft is a Franco-German private bank for discerning 'Mittelstand' entrepreneurs and their families. The activities are pooled in the Asset Management, Private Wealth Management and Corporates & Markets divisions and closely interlinked. Headquartered in Frankfurt am Main, ODDO BHF Aktiengesellschaft has offices in 17 German and French cities and international offices, among others, in Switzerland, Spain, USA and Hong Kong.
What we do
Comprehensive corporate finance advices,
Initial Public Offerings (IPOs)
Capital increases with and without pre-emptive rights
Equity & Debt Capital Market transactions
Listings & Delistings
Employee share programs
Squeeze-outs
Domination agreements
What makes us different
ODDO BHF is an independent Franco-German financial services group, with a history stretching back over 150 years. It was created from the alliance of a French family-owned business built up by five generations of stockbrokers and a German bank specializing in Mittelstand companies. The groups values are: entrepreneurial, independent, unique, stable and driven.
Business fields
Participation in banking roadshows
Support listing (IPO) und capital market financing (Equity)
Financial analysis (equity research)
DirectListing
Trading: Designated Sponsoring (Xetra)
Trading: Spezialist (Börse Frankfurt)
Investment Banking
Investor Relations and Public Relations
Tax Advice and Auditing
DirectPlace
Support follow up obligations
Equities
Services for going public
Drawing of Prospectus / Due Diligence
DirectPlace
Research
Services for being public
Brokerage & Market Making
Communication and IR-Strategy
Support follow up obligations
Research
Bonds
Services for going public
Drawing of Prospectus / Due Diligence
DirectPlace
Services for being public
Brokerage & Market Making
Communication and IR-Strategy
Support follow up obligations
General Contact
ODDO BHF Aktiengesellschaft
Bockenheimer Landstr. 10
60323 Frankfurt am Main
Contact Person
Dr. Dietmar Schieber
Managing Director, Head of Capital Markets Advisory
Corporate Finance
ODDO BHF Aktiengesellschaft
Bockenheimer Landstraße 10 - 60323 Frankfurt
Phone: +49 (0)69 718 2727
Contact for shares and bonds
Dr. Dietmar Schieber
Managing Director, Head of Capital Markets Advisory
Corporate Finance
ODDO BHF Aktiengesellschaft
Bockenheimer Landstraße 10 - 60323 Frankfurt
Phone: +49 (0)69 718 2727
Scott Gieschen
Vice President, Capital Markets Advisory
Corporate Finance
ODDO BHF Aktiengesellschaft
Bockenheimer Landstraße 10 - 60323 Frankfurt
Phone: +49 (0) 69 718 2725
Equities
B.R.A.I.N Biotechnology Research and Information Network AG
Market segment

Prime Standard

Mandate

IPO

Issue size

€ 33 Million

Date of transaction

15 Jan 2016

Internet
Singulus Technologies AG
Market segment

Prime Standard

Mandate

Debt to Equity Swap (60 Mio. Bond)

Date of transaction

09 Jun 2016

Internet
Deutsche Konsum-Reit AG
Market segment

Prime Standard

Mandate

Increase of capital with subscription right

Issue size

€ 40 Million

Date of transaction

21 Feb 2017

Internet
Bonds
ADLER Real Estate AG
Transaction

Mandate

Convertible Bond

Issue size

€ 138 Million

Date of transaction

09 Jun 2016

Internet
Additional Information